Anchorage Mayor David Bronson called for calm and compassion in Anchorage today, just prior to an expected Anchorage Assembly meeting, where the leftist members of the Assembly appear poised to enact a citywide mandatory mask law.
He also asked that people show respect and compassion to healthcare providers, and that hospitals reaffirm their commitment to treat all patients with dignity, compassion and respect, regardless of creed or personal belief.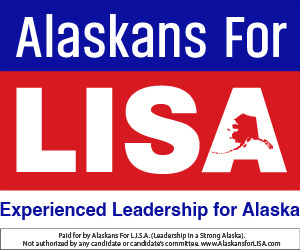 "Good healthcare begins with trust between a patient and their physician.People should not be afraid that their doctors, hospitals, or healthcare providers might treat them differently because of their politics or personal choices, in particular their COVID vaccination status. On the other hand, health care providers – who have been on the front line of this pandemic since it began – deserve our respect and need our support. Patients should not be afraid of their doctors, and health care workers should feel they are appreciated by those they help. We agree that vaccination is the best way to reduce COVID infections, serious illness, and death and strongly encourage everyone  – in consultation with their health care provider – to get vaccinated. We also ask that each of our health care institutions reaffirm their commitment, in these tense times, to treat every patient with dignity, compassion, and respect regardless of creed or personal belief. We stand together, with you, to see our city through this. We are strongest united," Bronson said.
While some members of the medical community have complained about patients acting out when they learn they have Covid-19, other medical workers say that doctors and nurses have shown extreme bias against unvaccinated patients. The Must Read Alaska series "Jab or no job" has told the stories of some of these workers, who choose to remain unvaccinated and who have witnessed extreme discrimination against themselves and patients.
Bronson will not be at the Anchorage Assembly meeting on Tuesday because he is quarantining for a week following exposure to Covid-19 last Thursday. Also absent from the meeting will be City Manager Amy Demboski and Municipal Attorney Patrick Bergt.
Read the "Jab or no job" series here:
Read: Part 1: Nurse losing job, after her medical exemption refused
Read: Part II: Pharmacist losing job
Part III: Southcentral Foundation employee losing job Oct. 15 over shot refusal
Part IV: Dozens of Alaskans come forward to tell their stories of being fired for not getting the shot
Part V: Military man getting discharged in Alaska for not taking jab
Part VI: Nurse says she sees too many blood clotting cases associated with jab, so she's not taking it
Part VII: Bethel police investigator gets put on leave, won't be returning to the force
Part VIII: Alaska Native man says unvaccinated patients are getting the shaft
Part IX: Sophies choice, between Moderna vaccine or childbearing?
Part X: Respiratory therapist describes growing underground of workers
Part XI: Supervisor says employees facing few options
Part XII: Founder of medical underground speaks about workers
Read: ICU Nurse: Let's stop demeaning the unvaccinated
Read: Doctor says hospitals are not in crisis, not rationing care