PROVIDES FULL PER DIEM CHART: EASTMAN IS AT #3
A day after a group of Republicans attacked upstart candidate Jesse Sumner with a recall petition to try to remove him from the Mat-Su Borough Assembly, Sumner has apologized for misstatements about Rep. David Eastman's per diem. Sumner is challenging Eastman in the District 10 Republican primary.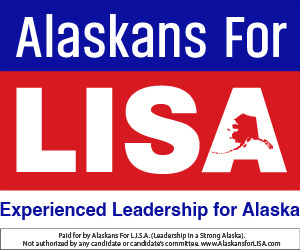 Sumner had said that Eastman took per diem while the Legislature was meeting in Wasilla in 2019. That was not possible, since legislators cannot take per diem when the Legislature is meeting within 50 miles of their home. A handful of Eastman supporters decided to go after his Assembly seat for those misstatements. They started an application for a recall.
"I apologize. I made a mistake and I take complete ownership. When I said that my opponent had the most per diem during the 2019 special session in Wasilla, I was inaccurate," Sumner said.
"I apologize to my opponent, his supporters and the voters of District 10. I assure everyone, I did so unintentionally," Sumner said.
Sumner provided the actual chart of per diem for 2019, which shows that Eastman took $48,622 in per diem, $22,704.92 in relocation reimbursement, along with the $50,400 in wages he earns as a legislator.
His per diem is slightly more than Speaker Bryce Edgmon of Dillingham, at $47,716, and slightly less than Rep. Neal Foster of Nome, who took $51,642.
Sen. Donny Olson billed the state for over $50,434 in per diem, putting Eastman in third place for the most per diem taken last year.
However, for the weeks that the session was called to Wasilla, he was not permitted to take per diem.
The entire list of per diem for 2019 is here.
For per diem in 2017, Eastman's per diem and relocation appears to be 171 percent higher than then-Sen. Mike Dunleavy's per diem that year. Dunleavy lives in Wasilla and is now governor.