'BLACK RIFLES' MATTER FALLOUT CONTINUES
Sarah Monkton, the acting executive director of the Alaska Human Rights Commission has resigned, Must Read Alaska has learned.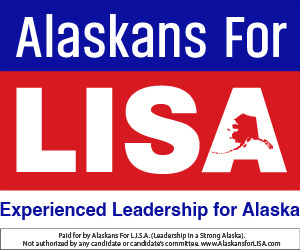 Earlier this month, two volunteer members of the commission resigned after the agency became embroiled in a national controversy stemming from abuses by its previous executive director, who has also resigned.
Monkton was serving as the acting chief of the beleaguered agency.
It all began when Marti Buscaglia, the former executive director, violated the civil rights of a plumber who had parked his truck in the agency's lot.
The truck's decal, "Black Rifles Matter," offended Buscaglia, and she left him a note on the back of her business card, ordering him to remove his truck from the lot. She then used the agency's Facebook page to deride the worker.
Buscaglia later told the media she thought "Black Rifles Matter" was hate speech.
Commission chairman Brandon Nakasato and vice chairman Freddie Olin IV then quit around the same time Buscaglia quit. She had been investigated and placed on 15-day leave, but she chose to depart and try to save the agency further embarrassment.
The governor then appointed the agency's lead enforcement officer, Monkton, to replace Buscaglia. Monkton lasted a week.
Monkton is married to the former State Prosecutor, Quinlan Steiner, who has also resigned his position and since been replaced.
[Read: Governor accepts resignation of public defender — immediately]
The Human Rights Commission is run by a volunteer commission board and is in charge of hiring the executive director. The two board members who resigned were replaced by Gov. Dunleavy immediately after it became known they were trying to control the hiring of the next executive director of the agency before Dunleavy could put new members in place. Dunleavy does not hire or fire the executive director.
[Read: Human rights high jinks]
The commission is scheduled to meet on Thursday. At this point, the agency has no executive director or chief enforcement officer, and no board chair or vice chair, although it has a full membership of seven on the board.
[Read: Human Rights director thought she was regulating 'hate speech']