This is the fourth in our series that will answer your questions about ranked choice voting. The subject expert is Bernadette Wilson, state director for Americans for Prosperity Alaska, who will answer questions about how to understand the new voting system that is in effect due to Ballot Measure 2, which was pushed on Alaska by Outside money from liberal entities. This series will continue until Aug. 16, the final date for the regular primary election and the special general election for the temporary placeholder for Alaska's congressional seat.
Reader question: If I vote for more than one, am I essentially splitting my vote on the ranked choice ballot?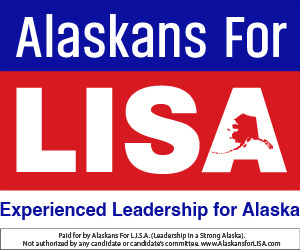 Bernadette Wilson: The short answer is no. If you vote for more than one candidate, your second pick is only being counted, or even looked at, so to speak, if your first choice is already out of the race.
If your candidate is already out due to lack of votes, only then would your second vote be counted. It's as though your candidate was never in the race to begin with for this second round of voting. A fresh round of counting begins. If you've picked a second candidate, then the vote is counted.
It's important to note here that if your first choice is cut from the race due to to lack of votes, and you have not cast a second choice, your ballot then gets thrown out for the second round of counting. This lowers the number of ballots in play in round two and therefore lowers the overall numbers of ballots that the ranked choice system needs to get 50% + 1.
Let's say 100 people vote for a first choice: To win the first round, a candidate would need 51 votes to win (50% + 1).
Now let's say out of those 100 original voters only half decide to vote for a second choice. 50 people have now participated in the second round. This means to win in round 2, a candidate now only needs 26 votes to win. The total number of votes needed to win is now lower because fewer people have opted to participate in that (round) election.
It's important to understand that if you rank more than one candidate, not all of your choices are being counted in every round of counting.
Resetting your mind and viewing each round of counting as though it's a whole new election so to speak can help you as a voter think through this process.
Watch Bernadette Wilson explain how ranked choice voting works at this link:
https://www.facebook.com/AlaskaAFP/videos
Add your questions in the comment section for future editions of this series.