Money: Fundraising season — and it's a big one this year — has not tapped every wallet, evidently. Gov. Mike Dunleavy had his most successful in-state fundraiser yet on Wednesday evening at a hangar near the airport. His re-election campaign raised over $50,500, at last calculation.
Spotted at the event were Mayor Dave and Deb Bronson, Rep. Sara Rasmussen, Rep. David Nelson, Mike Robbins, Judy Eledge, and a whole host of business owners and operators. Eledge was the emcee; she ran a slide show of old Dunleavy photos from his youth, and she had some humorous commentary for each one of the photos. The governor blushed a few times at the sight of himself wearing red sweat pants and white high-top basketball shoes, but seemed relaxed and enjoying the show; the photos were provided in secret to Eledge by his wife Rose Dunleavy.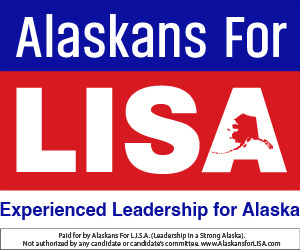 Running on a smaller PFD: Bill Walker for Governor's new ad says "What good is a $6,700 PFD if it means no PFD in the future?" The ad is trying to make the point that smaller PFDs, like the pint-sized Permanent fund dividend that Walker gave to Alaskans in 2016-2018, is good medicine for them.
Peltola gives up on ANWR: Mary Peltola, the Democrats' candidate for Congress, said at a Kenai candidates' forum that she doesn't think there's anything that can be done to pursue more production in Arctic National Wildlife Refuge.
Endorsements: Ken Koelsch, former mayor of Juneau and longtime Republican, endorsed Nick Begich for Congress.
Events: Valdez Gold Rush Days started Wednesday and run through Sunday.
Alaska Federation of Natives is having a "get out the Native vote" event on Aug. 9, from 9-11 am, via Zoom at this registration link.
Palin at CPAC: The interview with Sarah Palin at CPAC, the Conservative Political Action Conference in Dallas, Texas, on Thursday, where she was interviewed by Charlie Gerow for 19 minutes, at this C-Cpan link.