Trigger warning: Jerry Ward, senior adviser to the Sarah Palin campaign for Congress, told KENI talk show host Dan Fagan on Wednesday that Palin never quits, that she only does what's best for America and Alaska.
Ward insisted that Palin never quit her term as governor, with 18 months to go.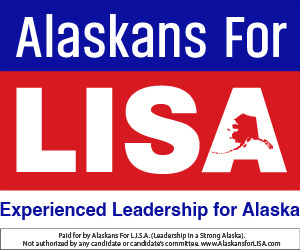 Fagan was incredulous. He has been a vocal critic of Palin for quitting, for signing off on high oil taxes, and for helping to install a Democrat Party-backed governor by endorsing Bill Walker and Byron Mallott in 2014, instead of her own former lieutenant governor, Republican Sean Parnell.
Fagan asked Ward to explain several times. But Ward would not budge. He continued to repeat that Palin never quits.
"What would you say to those people who are maybe thinking 'I can't vote for Sarah Palin because she quit on us once, she may quit on us again.' What would you say to them?" Fagan asked Ward.
"Sarah Palin is a fighter. She never quits. She does what's best interest for America and the state of Alaska."
"When you say she 'never quits,' I know you don't mean that," Fagan replied. After all, it is a fact that she resigned from office in July of 2009.
"Dan, Dan, she is not a quitter. She is a fighter. She always does what she thinks is in the best interest of Alaska and America," Ward repeated.
It went on this way for over two minutes, with Ward never off message from the "she never quits" answer. Fagan finally thanked Ward for joining the show. Listen to the clip:
In 2009, the Guardian newspaper wrote: "The customary political calm of the celebratory 4 July weekend was shattered by frenzied commentary over the surprise decision by Sarah Palin to stand down as governor of Alaska, which has left pundits intrigued, baffled and amazed.
"Palin added to the speculation over the weekend, dropping a few further tantalising hints but falling far short of a definitive explanation. The most suggestive of those hints were made in an Independence Day post on Facebook where she alluded to a "higher calling" and said she was "now looking ahead and how we can advance this country together".
"Those words will strengthen the camp that believes the resignation amounts to a first step in a bid for the White House, as opposed to those who interpret it as the beginning of the end of her political career. But, this being Palin, nothing is clear," the newspaper wrote.