(2-minute read) REMOVES A CONSTITUENT'S SUGGESTION THAT HE RESIGN
Rep. Gary Knopp will be featured at a special Kenai/Soldotna Chamber of Commerce breakfast on Friday, Feb. 15, and a Town Hall later that evening.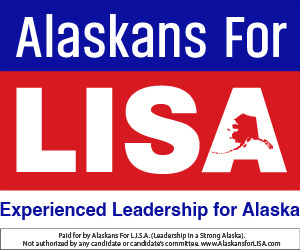 He posted the event on his Facebook page, only to have a couple of criticisms pop up in response.
Ray and Jenny Chumley responded to Knopp that they hope he'll resign during the town hall meeting. But their comment only appeared for a while before it was removed, presumably by Knopp, but certainly not by them, Must Read Alaska has learned.
The posting, linked below, has been sanitized of a second critical comment as well:
CONSTITUTIONAL QUESTION
The "curbing of critics" may be an abridgment of the First Amendment right to free speech because Knopp's Facebook page represents him as an official of the government, not as a private citizen.
In January, federal appeals court said a Virginia politician violated the Constitution by temporarily blocking a critic from her Facebook page, in the same manner that former Alaska Rep. Les Gara was so fond of doing when he was in office, and in a similar way to the censoring that Knopp is doing now.
In an unanimous decision, the 4th U.S. Circuit Court of Appeals said that the chair of the Loudoun County Board of Supervisors violated the free speech rights of Brian Davison by banning him for 12 hours from her official "Chair Phyllis J. Randall" page.
While Knopp didn't ban the Chumleys, either he or his official government staff did remove their suggestion that Knopp step down from office.
Political speech "occupies the core of the protection afforded by the First Amendment," wrote the Virginia-based appeals court in the decision that affirmed an earlier ruling by U.S. District Judge James Cacheris in Alexandria, Virginia.
The Virginia case was the first of its kind in a federal appeals court, but could be used in other courts as precedent.
President Donald Trump asked the 2nd U.S. Circuit Court of Appeals to flip a a District judge's ruling that said he could not block Twitter critics from his @RealDonaldTrump Twitter account.