Alaskan Jeff Lowenfels, who writes a gardening column for the Anchorage Daily News, filed today to fill the remaining term of Congressman Don Young and for the term of U.S. Congress to begin in January of 2023. He is a registered Democrat and is 70 years old.
Lowenfels was assistant attorney general during the early pipeline years and is familiar with the many issues that still face the state. He has represented all of the State's resource agencies: The Department of Natural Resources, The Oil and Gas Commission, and Fish and Game. He represented the Department of Environmental Conservation, the Public Utilities Commission and the Alaska Pipeline Commission.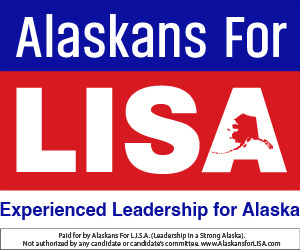 Lowenfels managed the state's largest law firm with offices in Anchorage, Fairbanks, Juneau, and Washington, D.C. He was instrumental in the permitting of the Trans Alaska Gasline project, traveling to Alaska's Asian markets and wandering the halls of Congress.
Lowenfels wrote four best selling science books, was head of the Garden Writers of America, raised two children with his wife of 48 years, likes to fish, loves dogs, introduced pizza by the slice to Alaska.
"I am running because we don't have Don Young anymore to serve us. He, and his staff, taught me the only real job for an Alaskan Congressman is to ensure Alaskans' interests and Alaska's issues are not overlooked at the federal level. I agree and believe I can continue the service he provided all Alaskans," Lowenfels said.
" Again, I am not a professional politician BUT Don wasn't either. I don't intend to become one. Like Don, I'll speak my mind. I don't seek higher office. I don't need a job, but I do believe my experience and skill set enable me to represent you and Alaska at least in the way to which you have become accustomed. Stay tuned!"
Lowenfels is signed with a speaker's bureau as an expert on growing cannabis. His bio with AAE Speakers says:
"Jeff Lowenfels is the most humorous and entertaining lecturer on the cannabis and horticultural circuit. He is a reformed lawyer and author of Timber Press' award winning and best selling books, Teaming With Microbes: The Organic Gardener's Guide to The Soil Food Web, Teaming With Nutrients: The Organic Gardener's Guide to Optimizing Plant Nutrition and completing the trilogy, Teaming With Fungi, The Organic Grower's Guide to Mycorrhizae. These seminal works have been adopted by cannabis growers and become "must-read" bibles
His latest book is DIY Autoflowering Cannabis was published in 2019 by New Society Publishers. It describes a new kind of cannabis perfect in this era of legalization. The Lowenfels predicts it is the next tomato.
"Lowenfels also pens the longest running garden column in North America, having never missed a week in over 40 years. The combination of garden writing and law earned him the moniker of 'America's Dirtiest Lawyer.' The Teaming Trilogy elevates him to 'Lord of The Roots.'
Jeff is also a highly respected and popular, national, garden writer. He is the former President of the Garden Writers of America, a GWA Fellow and in 2005 was inducted into the GWA Hall of Fame, the highest honor a garden writer can achieve.
Jeff Lowenfels has become a leader in the organic movement as a result of his best selling books. He is often credited as starting Regenerative as well as no-till Agriculture. His talks have converted tens of thousands of gardeners and growers at venues throughout North and South America. It is no wonder why: Teaming with Microbes: The Organic Gardener's Guide to The Soil Food Web was reviewed as "the most important new gardening book in 25 years and maybe even ever." It is now out in a Revised Edition, and has been translated into 11 languages.
"Jeff grew up as an indentured servant on his father's hobby farm in Scarsdale, New York. There he was forced to plant, weed, mow and pick fruits, flowers and vegetables on an 8 acre 'gent|emen's farm' replete with acres-wide vegetable gardens, a Versailles-style formal flower garden, a 100 tree fruit orchard and countless landscape shrubs, lawns and decorative beds. He escaped to Harvard College where he majored in Geology and the Harvard.
"One day back in the early 70's while attending law school, he was held up and shot. As a result, he ran as far away as he could without a passport and ended up in Anchorage, Alaska. There, he has been able to translate his work-filled childhood into a meaningful and enjoyable hobby and avocation.
"Jeff hosted Alaska public te|evision's most popular show, "Alaska Gardens with Jeff Lowenfels." The show was so popular, it ran four times a week and aired even in Barrow, way above the Arctic Circle. He also hosted a popular, weekly, garden radio show until his travel schedule lecturing around the world caught up with him.
"Most important, Jeff is the founder of a now national program that started as 'Plant a Row for Bean's,' the soup kitchen in Anchorage, and is now 'Plant A Row for The Hungry.' The program is active all 50 states and Canada and has resulted in millions pounds of garden produce being donated to feed the hungry every year.
"Jeff is as passionate about 'Plant a Row' as he is about organics. He encourages gardeners every where he goes to participate in the program and constantly reminds his fellow garden communicators of the pressing need to solve the hunger problem."
In addition to Lowenfels filing today, Republican Nick Begich also filed with the Division of Elections, and several other candidates are expected to file in the coming hours, as the special primary election filing deadline approaches on April 1.