By JAY MCDONALD
A great threat has arrived in our homes. I am a combat veteran. I spent two years in Afghanistan and I earned the Bronze Star for valor under fire. I do not say this lightly, but what I am seeing today in our homeland scares me.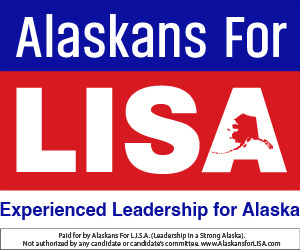 Our government officials and politicians are implementing strict control measures and mandates using the justification that, without these strict measures, your actions as a free individual will endanger the safety of our community. But the rules they make don't always apply to them.
If Anchorage Assemblyman Forrest Dunbar really believes that the government should have the power to put you under house arrest and close your business when you are sick, then why did he show up to the Covid-19 working group meeting last week while he was sick with a respiratory infection? Why didn't the CDC experts and doctors who were at the meeting with him say anything as he was hacking and coughing so loudly that they had to raise their voices to speak over him?
If the local Democrat politicians, like the ones who run the Anchorage Assembly and our Legislature, believe that doctors, employers, and businesses have a right to blacklist patients, employees, and customers who decline to receive the Covid-19 vaccine, then why have liberal politicians been working behind the scenes to decriminalize the intentional spread of HIV? California Democrat legislators made it legal to intentionally infect others with HIV without disclosing your HIV status to your victim.
The former executive director of the Alaska Democratic party, Jay Parmley, was accused of infecting a woman with HIV. He resigned his party post in North Carolina and relocated to Alaska and the Democrat State Central committee voted to hire him here, without pause.
I attended local Democrat meetings in 2014-2016 where their activists and community organizers discussed the ways that they were attempting to eliminated HIV screening at the blood bank, because they felt like those policies discriminate against the gay community. This type of behavior, among other things, gave me the push I needed to leave the Democrat Party.
These are the same people who are posing as "public health" experts while they craft covid legislation.
If masks are so essential that we must force young, developing children to wear them at school even when they are playing sports, then why do teachers post photos and videos to social media on a daily basis showing each other socializing in classrooms with no masks? Why did the teachers have the dance party together in the high school theater just before school started? Why did Nancy Pelosi attend that large fundraiser with elderly (high risk) patrons, an event during which only the servers wore masks? Why didn't anyone wear masks to Obama's birthday bash? 
If these unprecedented and intrusive mandates are being made for our own good, why can't the experts show us the data that demonstrates how effective lockdowns and mandatory masking are? We have nearly two years worth of data and studies now. I've read the clinical studies that are out there, and they do not support the lockdowns and masking.
In fact why are decades old studies showing the importance of facial recognition during child development being quietly deleted and de-listed from government sources, as our children are systematically masked?
The most recent study I read about childhood Covid-19 risk assessment put the child mortality rate at 2 per 1,000,000. That study included children with obesity, diabetes, cystic fibrosis, and all other co-morbidities, and the risk was still that low. The childhood suicide rate has grown at a rate five times that amount since lockdowns began.
Our politicians and our media say that the threat your civil rights pose to the community is so great, that you must forfeit your civil rights for the "greater good." If you believe that argument, then you must surrender control of your life over to unnamed and unelected government experts. Who are the experts that will control your life? Who will hold them accountable? What limits are there on their power? To us, this is unprecedented. But that is because we are young and we live in America.
I am only 33, my parents are only just hitting their 60s. America has always been free in our living memory, but if you pick up a world history book you can see that these ideas and these policies are not new. This path has been traveled many times before. For people who allow these ideas to take root, the result has been the same every single time.
The Republican Party must stand for freedom. We must work together, and we must hold our Republican representatives accountable. We cannot tolerate Republican leadership that is weak at heart or unwilling to fight for freedom. The stakes are too great. If we do not stand for liberty, then no one will and we will lose it. \
Freedom can be lost easily, but to earn it back the cost is great. We cannot allow that to happen.
Jay McDonald is a U.S. Army veteran and political activist in Anchorage.