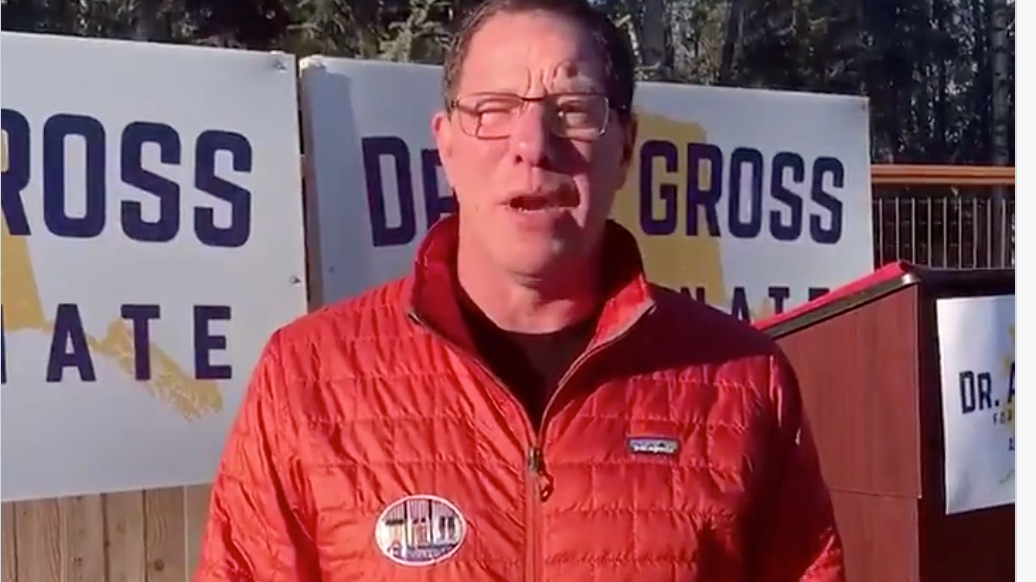 By SCOTT LEVESQUE
With nearly 95% of the votes accounted for in Alaska's 2020 General Election, it's over for U.S. Senate candidate Alan Gross. As the dust settles, and as Gross has finally made his brief concession call to Sullivan, Sullivan's win is a double-digit advantage.
This margin of victory may have come as a shock to the Gross campaign and its supporters. Over the past several months, Gross has carefully handpicked polling data that aligns with the campaign narrative. It's almost as if they began believing their own polling.
Pushing out false polling numbers is a strategy for increasing Outside donations and invigorating potential voters to join with "a winner," but real, final poll numbers are always at the ballot box.
Sullivan's landslide leaves the Gross campaign sifting through the debris of an $18 million campaign that finds itself being asked an important question:
Where did it all go wrong?
One thread on the fraying garment is how the Gross campaign overvalued Democrat-leaning poll data, created misleading numbers to keep a "unifying" campaign narrative, and underestimated Sullivan's support altogether.
Early in 2020, Gross began pushing unverified polling data to entice potential donors to give to his campaign. The public and the donors were told the numbers, but never given the cross-tabs.
In particular, one reoccurring Twitter post toward the end of the campaign announced Gross had "sailed into the lead" by moving ahead 47% to 46% over incumbent Dan Sullivan.
The social media post linked to an ActBlue.com site, the place where Democrats raise money for their candidates.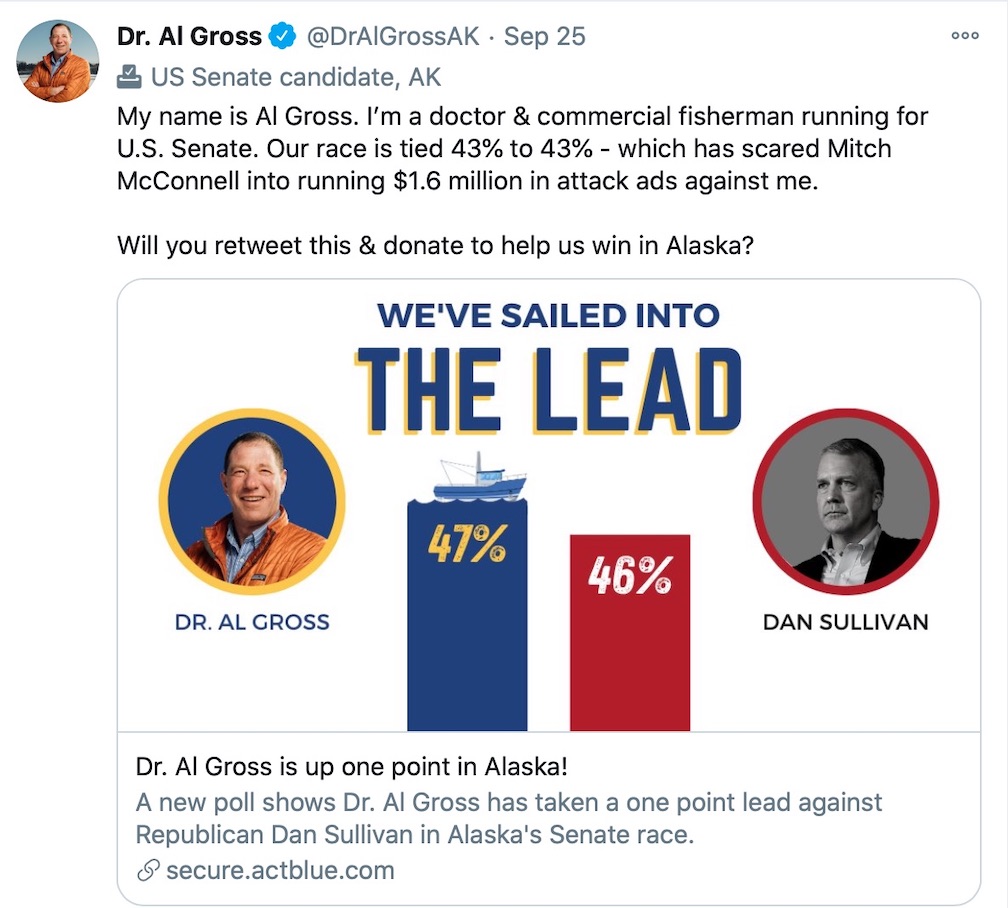 Since it first appeared, the 47/46 myth was posted at least 17 times on Gross' campaign Twitter feed. In that time, Gross never verified the 47/46 projection, but that did not stop the campaign from naming and claiming, and raising money on a lie that was weeks in the making.
On Aug. 31, Gross posted a Public Policy Polling (PPP) survey, indicating Gross and Sullivan were tied 43% to 43%.
One month prior to that, the PPP poll had Sullivan ahead 39% to 34%. Gross omitted that data point from his Twitter feed in July.
PPP is described by InfluenceWatch.org as "a Democratic polling firm that conducts publicly released surveys routinely cited in mainstream media accounts." Dean Debnam, who founded the firm in 2001 in Raleigh, NC, is described by Businessnc.com as "one of the state's most ardent donors to Democrat politicians."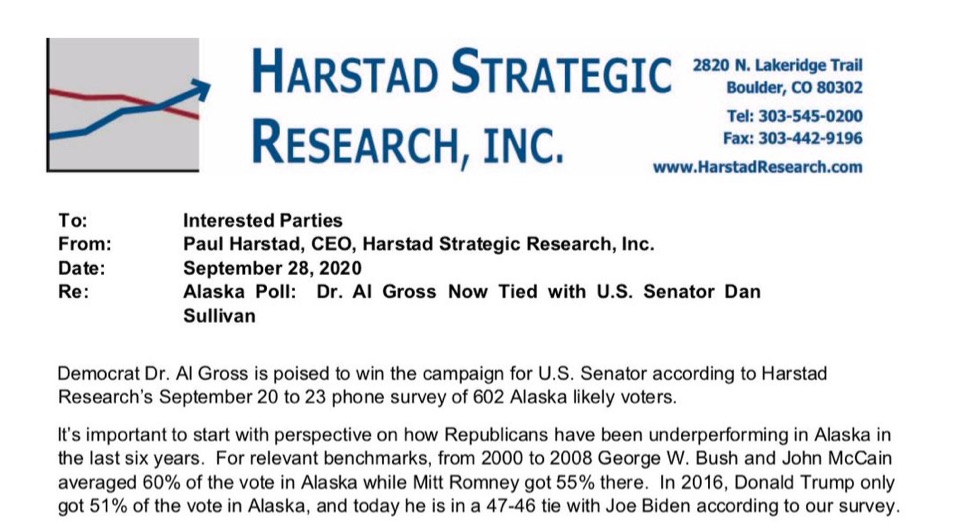 In late September, Gross tweeted out the survey from the Democrat- and Obama-affiliated polling firm, Harstad Strategic Research, saying his campaign was now ahead in the Alaska Senate race, 47% to 46%.
The Harstad survey was an internal poll paid for by the Gross campaign. It's also the polling firm used by former Sen. Mark Begich.
"The latest poll on the race for Alaska's U.S. Senate seat gives Democrat-backed independent challenger Al Gross a one-point lead against Republican U.S. Sen. Dan Sullivan," wrote the Daily Kos, a heavily left-leaning news blog.
"Gross has the support of 47% of the 606 Alaska likely voters covered in the poll to Sullivan's 46%, according to a polling memo released Harstad Strategic Research. The poll was conducted between Oct. 10 and Oct. 13 with a self-reported 4% margin of error and is the third such poll conducted by the firm.
"'This progress confirms Dr. Gross' continuing momentum and steady climb in recent months to his first tiny lead over Sullivan,' explained the memo by Paul Harstad, the firm's CEO," the Daily Kos wrote.
On Oct. 22, Gross tweeted yet another poll from Change Research, which had Sullivan in the lead at 47% to 44%. Both polls had a margin of error of 4%.
On Oct. 28, Gross tweeted a poll from Gravis Marketing, which had Sullivan leading 48% to 45%.
Even after the election, on Nov. 5, Gross campaign manager David Keith sent a memo to the media telling them to not call the race because "independent polling" and Patinkin Research Strategies both said Gross went into Election Day with a 47-46 advantage.
The Gross campaign's narrative was straightforward: We're not just in this; we could win it.
But it was kabuki theater. Leaning on polling data that only aided in his campaign's messaging proved to be a costly mistake. It's something that happens in campaigns that are using polls to push narratives — the campaigns start believing them.
In the other camp, Sen. Dan Sullivan's campaign never released a single poll. That campaign also conducted polling, to see where the voters were at, but the numbers were closely held.
Friday, Gross conceded the Alaska U.S. Senate race to Sullivan. In his statement, Gross labeled his campaign the "underdogs" and reinforced how proud he was of his campaign.
"We were underdogs from the start, but we ran a strong campaign and raised important issues that deserved to be heard."
After spending tens of millions in ads dishonestly attacking the character and record of Sullivan, he had created one more lie: That he was the underdog.

One of the biggest political stories of the year is the polling malpractice being pushed by companies pretending to be pollsters, but serving as propagandists.
They do it for the money. They're not held accountable because what dishonest campaigns want are some type of polling numbers that buttress their rise to credibility. It happened all over the country, with most national pollsters badly calling the presidential race as a landslide for Biden.
The doctor from Juneau knew this was polling malpractice, but he engaged in it willingly to try to fool voters into thinking he was the lead dog, rather than the underdog.
In the end, he flipped the narrative and became the underdog. It may have taken a piece of his soul to run such a campaign, and likely destroyed his political credibility for good.