(Corrected version: Bob Richards in 1986 ran a Super Bowl ad, "A new day is dawning.")
Rarely before has a gubernatorial candidate in Alaska had an ad in the Super Bowl. One ran on Sunday night for the first time since 1986.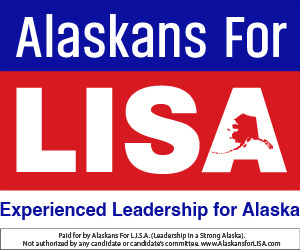 "Dunleavy for Alaska," the independent expenditure group chaired by Terre Gales, bought a 30-second spot at the end of the third quarter of the game between the New England Patriots and the Philadelphia Eagles.
The ad was "voiced over" by Mike Porcaro, longtime advertising agency owner and broadcaster in Anchorage. He said in his 52 years of advertising work in Alaska, he'd never seen an ad promoting a gubernatorial candidate.
"I think we got across the message we wanted," Porcaro said, after the game ended. "It was a good game, and a good spot."
The group "Dunleavy for Alaska" is different from the candidate's actual campaign, "Alaskans for Dunleavy." It operates under its own election rules and is not allowed to coordinate with the campaign, so it was likely that candidate Dunleavy saw the ad for the first time himself on Sunday, as he and his wife watched the game from their farm house.
But parts of it would have looked familiar to him, as imagery was lifted from his previous campaigns for Senate District E.
The ad started out with Dunleavy walking out of a barn, and the message focused on getting oil out of the ground, protecting the Permanent Fund dividend, and "Mike's been Juneau's loudest voice for a balanced budget….We just need a governor who will get us there."
He was filmed brushing one of his dozen mules that he owns on his farm in the Mat-Su Valley, and then the usual set of oil and budget imagery followed, with upbeat music in the background. The ad ended with the usual required disclosures.
The ad buy cost the group $19,000 and was seen by Super Bowl viewers in Anchorage and Fairbanks media markets.
Dunleavy for Alaska has also purchased television ads for the Olympics from Feb. 9-24, with a spend of $36,000.
The group's radio buy that starts Monday morning and runs through the end of the month will burn through $9,000, according to FCC records.
Porcaro Communications is the group's Agency of Record for ad placement, according to the FCC filings.
A longer version of the ad is running on Dunleavy's Facebook Page.