TWO CHANCES TO SEE SIGNATURE AIRCRAFT
Vice President Mike Pence will stop in Anchorage this afternoon. Air Force II will be landing at Joint Base Elmendorf Richardson at approximately 5 pm, as the vice president and his wife Karen make their way to Japan and then South Korea for the start of the Winter Olympics.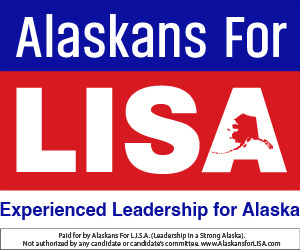 Typically, the aircraft is accompanied by F-16s. Airspace in the area will have temporary flight restrictions (TFR) and Merrill Field is likely to be affected.
After landing, Pence will take in a Northern Command briefing with aerospace and missile defense leadership and then tour the Alaska Command and Control Center.
At 6:45 pm, the vice president's plane will depart for Tokyo, Japan before heading to PyeongChang for the opening ceremonies, which start Friday.
Pence will lead the US delegation to the winter Olympics and play the part of America's top dignitary present to celebrate American athletes.
But his visit to South Korea comes at a time when North Korea has been increasingly hostile to the United States, and the symbolism of his trip will be the fodder for much media coverage.
Pence has in the past visited the Demilitarized Zone that separates the two Koreas. His father served in the Korean War and was awarded the Bronze Star.
Temporary Flight Restrictions are in effect:
WHAT TO LOOK FOR IN THE SKY
The Air Force 2 is a custom version of the Boeing 757-200 commercial intercontinental airliner.
The C-32 body is the same as the Boeing 757-200, but it stands taller, for security reasons, allowing the Secret Service personnel to view all around the aircraft.
Length: 155 feet, 3 inches (47.32 meters)
Height: 44 feet, 6 inches (11.02 meters)
Wingspan: 124 feet, 8 inches (37.99 meters)
Maximum Takeoff Weight: 255,000 pounds (115,668 kilograms)
Range: 5,500 nautical miles unrefueled range
Ceiling: 42,000 feet (12,727 meters)
Speed: 530 miles per hour (Mach 0.8)
Load: 45 passengers
Unit Cost: Unavailable
Crew: 16 (varies with mission)
Date Deployed: June 19, 1998
Inventory: Active force, 4
1. The forward area has a communications center, galley, lavatory and 10 business class seats.
2. The second section is a fully enclosed stateroom for the use of the primary passenger. It
includes a changing area, private lavatory, separate entertainment system, two first-class
swivel seats and a convertible divan that seats three and folds out to a bed.
3. The third section contains the conference and staff facility with eight business class seats.
4. The rear section of the cabin contains general seating with 32 business-class seats, galley,
two lavatories and closets.