By DANIEL SMITH
Where are the goal posts? How and when will the children of Anchorage be able to breathe freely again in school?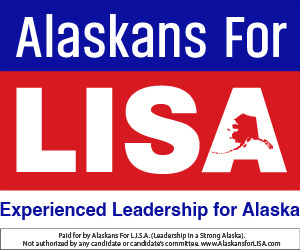 The Anchorage School District Board and superintendent may not be able to make this decision rationally. If asked, they will point to recommendations from the now discredited Centers for Disease Control and Prevention. They will direct your attention to a fancy colored CDC chart with indicators for risk of introduction and transmission of Covid-19 in schools.
Such indicators include number of new cases, percentage of positive PCR tests, percentage of hospital beds occupied and beds occupied by Covid patients. This decision matrix is fuzzy at best and it's a bit hard to tell which way the wind is blowing the flags on top of the posts.
Reflecting on a few short months ago, the district conducted a Covid-free and mask-optional summer school. We thought we might be done with the mask mandate insanity.
Then Superintendent Deena Bishop huddled up and had conversations. Bishop claims she based this decision to mask up the kids for the fall of 2021 on conversations with staff and members of the community.
I am not aware of any survey asking for public or school district employee input. My opinion was never solicited. Nobody I know was asked to give their two cents. Bishop's mask mandate e-mail announcement was issued Saturday July 31 at 7 pm. The only board meeting before the start of school was on Aug. 3, where in-person testimony was overwhelmingly against the mandate. Aug. 17 was the first day of school this year.
Make no mistake, this is Bishop's mandate we currently enjoy. The superintendent made the recommendation to the school board and they took her advice.
The view of the end zone suddenly became blurry and undefinable at that point.
Every athlete or team that takes a beating on the field is reminded by their coach, not to hate the opposing players, instead direct your anger toward the game. It is not an easy perspective to achieve given all of the bad calls and late hits that have been made by the opponent.
This is, unfortunately, not a game. Numbers and statistics are discussed to the point of exhaustion. The failed "lockdown", "shut out" and "mask up" plays are analyzed, but no apologies are offered. Mistakes have been made. Child development and education have suffered. The children of Anchorage will never get that lost, lockdown spring semester of 2020 back.
Suffering from the delayed academic achievements and social skill deficiencies continue as a consequence today. Look at the test scores. Look at the in-school violence.
As a constant reminder of the failure that is ASD leadership, students continue to suffer under the mask mandate. One should not dwell on the last broken play. The only thing that matters is the next play.
And here it comes. As recently as Nov. 23, a principal sent out a "Mask Wearing Reminder" notice. In that notice it stated "Correct mask wearing always means over the nose and mouth unless eating or drinking" (when Covid apparently is unable to spread or be caught). The notice goes on to say, "Students who fail to comply with wearing their mask properly will receive detention. It is important that we continue to enforce the districts universal mask wearing policy."
One of only two possible situations can exist here. Option one: Either we have a huge outbreak of a virus which is 99.997% harmless to the 19 and under age group or, Option two: This is all about compliance, universal compliance.
I figured the numbers on the ASD web site would surely tell the story — and boy do they ever. ASD maintains a list of every ASD school, updated in real time and it reflects the number of active Covid cases involving both students and staff that are in a 10-day isolation situation with a confirmed positive Covid test.
Of the 103 ASD schools, 32 of them had zero active Covid cases on Nov. 23, 2021.
Twenty-eight additional schools had only one active Covid case. The most that any single school had was 9 Covid cases.
Translation: 58 percent of ASD schools have one Covid case or less. If one or less cases in a school is not the goal, then only zero cases must be the goal.
But no. The previously mentioned principal's letter came from a high school with zero Covid cases. I think the Anchorage School District is running the "Option Two" play in this situation.
It's not the players, it's the game. There is no recognition of individual schools and their unique statistics. This is like saying, "The second place team in the Super Bowl is a bunch of losers," even though they have nine future Hall of Fame players on their active roster.
Currently, 32 schools with zero Covid must continue to suffer the mask mandate, as they are on the losing ASD team under the rules of this game.
The rules need to be changed. Anything done in the name of universal compliance has got to be an automatic question mark in a rational mind.
There is a young generation of Anchorage students who know of no other type of school except the masked kind of school. The damages to academic achievement and social development are real, especially for the youngest students.
Are the school board and superintendent nimble enough to make changes to their own mask mandate policy? Remember, this is not a CDC policy. This is an Anchorage School District policy. They demonstrated that they have the ability to call an audible and make last minute changes like reintroduction of the mask mandate last fall. In the second half of the 21/22 season will the ASD leadership be able to move the ball the other direction?
If you could run in the next play from the sidelines, you might tell the ASD quarterback to make masking up optional when a school has one or fewer active cases of Covid-19. Or maybe 5 or fewer cases should be the threshold since we are just making up rules as we go for the last couple years. This really needs to be addressed on an individual school basis. The universal policy approach does not acknowledge the conditions on the ground or within the confines of a single school.
The Anchorage School District has a School Board Meeting on its schedule for Monday Dec. 6 at 6pm. I would hope that enough people express their concerns, and that logic and reason prevail. It is possible that we can give the kids here an early Christmas present and win the Covid Bowl. Eliminating the universal useless and harmful mask mandate could be the play that breaks the game wide open.
Dan Smith is a lifelong Alaskan and Anchorage resident and senior contributor at Must Read Alaska.