ULUAO 'JUNIOR' AUMAVAE IS RETIRED FROM NFL AND DRUG ENFORCEMENT AGENCY
Anchorage Mayor Dave Bronson today named Uluao "Junior" Aumavae as the Chief Equity Officer for the Municipality of Anchorage.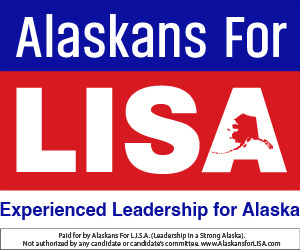 This means he has released the chief equity officer appointed by former Acting Mayor Austin Quinn-Davidson in April. Clifford Armstrong was moved from Tacoma, Washington by the taxpayers of Anchorage to take the political appointment that was created at the request of now-disgraced former Mayor Ethan Berkowitz.
Aumavae recently worked as the community outreach specialist for the Drug Enforcement Administration in Alaska as part of Operation Engage. Aumavae's role was part of a comprehensive approach that targets the top drug threat in a community, supports drug use prevention efforts, and bridges the gap between public safety and public health efforts. He worked with non-profit organizations, including the United Way of Anchorage, and other entities, including the Anchorage School District, private schools, the Office of the Governor, the Alaska Department of Education & Early Development, the Municipality of Anchorage's Department of Health, and the Anchorage Assembly.
Aumavae has previously worked for the National Football League Player Association, serving as the Secretary and Vice President. In that capacity, he assisted a diverse group of players in developing a plan for life in the workforce after retiring from professional football. That included connecting the former athletes with leaders in the public and private sectors to help them access the resources and benefits they needed to succeed.
"Junior Aumavae is the perfect example of someone who has overcome the hardships of life to become successful and strive to help others in need," said Mayor Bronson. "With his background, experience, and heart, Junior will be a great addition in our efforts to ensure the Municipality of Anchorage's workforce is more representative of the incredible diversity and talent of Anchorage's citizens."
Born in American Samoa, Mr. Aumavae moved to Anchorage with his family as a young child. He attended William Tyson Elementary and Clark Middle School in Mountain View, East Anchorage High School (now known as Bettye Davis East Anchorage), and Palmer High School. As an all-state football player in high school, Junior later attended Western Washington University on a football scholarship where he earned a Bachelor's Degree in General Studies from the College of Humanities and Social Sciences. Aumavae played professional football with the NFL, IFL, and AFL for teams that included the Dallas Cowboys and the New York Jets, among others.
He is also the founder of Elite Athletic Trend (EAT), a non-profit that works with youth in athletics to develop successful life skills and civic engagement, ensuring communities are vibrant, resilient and strong. Through EAT, he has worked with troubled youth to teach them how to obtain academic excellence, while learning how to live healthy and active lifestyles.
Aumavae started his new job October 11, 2021.
The chief equity officer position was created by the Assembly last year with an ordinance that said the person holding the position cannot be fired without the permission of the Assembly, but the administration obviously doesn't interpret it that way. Armstrong hasn't shown up at City Hall for weeks, according to sources, and has scarcely been seen since Bronson took office. His whereabouts is unknown. He was making $115,000 per year.
The NAACP issued a news release claiming Clifford was fired illegally "in attempt to cover up report of Municipal record on equal opportunity in hiring."
Read: Mayor Berkowitz seeks to add equity officer to his cabinet
Read Tacoma man hired for Anchorage equity officer