A woman scorned? Bethel City Attorney Libby Bakalar, who was fired from the Alaska Department of Law in 2018, continues her profane attacks on the governor by redesigning the logo for one of his podcasts, which is called First Hand.
The podcast is meant to showcase members of the Gov. Mike Dunleavy Administration by having them talk about the various things going on in the departments. The first podcast was with Department of Health and Social Services Commissioner Adam Crum.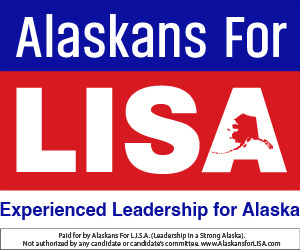 Bakalar published the logo by remaking it into male genitalia and labeling it First Hand Job. The result was crude in more ways than one.
Recently, Bakalar posted a graphic graphic of Sen. Lora Reinbold's head on the end of a vibrator. She doesn't actually live in Bethel.
As the city attorney for that Western Alaska hub community, she works from Juneau. Meanwhile, she has an active lawsuit against the governor and his former Chief of Staff Tuckerman Babcock for wrongful dismissal.
Bakalar, when she served as an elite attorney in the Department of Law, had been a key advisor to former Lt. Gov. Byron Mallott and his election task force, which was working to move Alaska's elections to an open primary system, or else charge Republicans the cost of them having their own primary ballot. Mallott left office before that effort came to fruition, and Bakalar was released by the Dunleavy Administration against her wishes. She is represented by the ACLU in her lawsuit.