At first it was just a temporary stay of three months. Now, the Interior Department announced it will impose a two-year stay on implementation of new Public Land Orders in Alaska. These are land orders that have already been signed and would have granted homestead land to Alaska Native Vietnam veterans, who missed out on a special land grant that occurred while they were serving their country.
Many Alaska Native veterans may not live long enough for the two-year stay to be lifted or to benefit from a possible "next White House," which could reverse the action of the Biden Administration.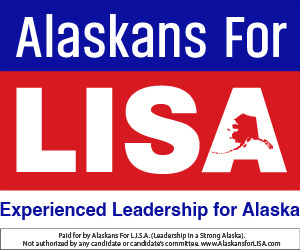 During the first week of the Biden Administration, President Joe Biden put the temporary stay on the four public land orders that had been signed by former Sec. David Berhardt, during the last week of the Trump Administration. These were orders that Alaskans had waited on for years and were some of the final deliverables of the Trump Administration.
The Alaska delegation of Congressman Don Young, and Sens. Lisa Murkowski and Dan Sullivan had hoped for a more productive working relationship with Sec. Deb Haaland when they voted to confirm her. Young, as Dean of the House, introduced her to the Senate, and both Alaska senators voted in favor of her confirmation, after having discussions with her about the unique matters that pertain to Alaska.
The yanking back of the land is because of the Biden Administration's focus on climate change, according to the new order.
Read: Biden Administration pulls back lands from Alaska Native vets
"Secretary of the Interior Deb Haaland has chosen to start off her relationship with Alaska by going back on the promises she made to me prior to her confirmation, undermining rural communities, and stabbing Alaska Native Vietnam-era veterans in the back," said Sen. Dan Sullivan.
Read: House members show solidarity with Native Vietnam vets
"The impact will be felt most acutely in rural Alaska, where communities will be denied access to gravel resources to build out local village infrastructure and ANCSA and Statehood land settlements will be further delayed. Most egregiously, though, this misguided decision will drastically limit the lands available to thousands of Alaska Native Vietnam-era veterans who were unable to select land allotments due to their military service.
"It is deeply saddening and shameful that, as a result of Secretary Haaland's decision, Alaska Native veterans who served their country admirably, and have waited decades for land allotments, may not live long enough to see them. I have spent an enormous amount of time explaining this situation to the secretary—including just before the announcement—but she put her allegiance to radical green groups over heroic Native veterans and other Alaskans. Secretary Haaland owes all of these Alaskans an explanation and, frankly, an apology," Sullivan said.