The Alaska Democrats have been flirting with the idea for months, but with special session after special session of the Legislature, they haven't been able to launch Alaska State Sen. Elvi Gray-Jackson of Anchorage as their candidate for U.S. Senate. The fourth special session of the year is still under way, even though few are paying attention to no-show legislators.
Over the course of the summer, Gray-Jackson has changed up her edgy, spiked hair style to something more … senatorial. The Alaska Democratic Party has been putting out social media surveys to lay the groundwork for her, trying to build her statewide name recognition.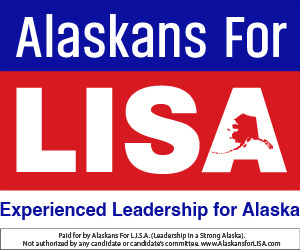 In the latest edition of the Alaska Democrats' official newsletter, the party makes it clear that she is their preferred candidate.
"Wonder who's running as a Democrat for Senate and U.S. Representative? We get that question a lot, and we know it's tough to be patient. But know that we're working behind the scenes fitting Democrats into the best seats, waiting for redistricting maps to be finalized, and doing all the prep work behind the scenes to run successful races. But if you want to encourage things along, here's something you can do," the newsletter says.
"First – does the thought of having State Sen. Elvi Gray-Jackson representing Alaska in the U.S. Senate excite you? We have reasons to believe with the right candidate, this is a winnable race for Democrats, FINALLY! Just think of it… A Senator who doesn't bob and weave, no tiptoeing around positions, no more equivocating and backtracking, no being 'concerned' and then doing the wrong thing. No more being Charlie Brown while our Senator is Lucy with the football," the party writes, describing their disillusionment with Sen. Lisa Murkowski.
The party used an old Charlie Brown cartoon to illustrate their feelings about Murkowski, who is too conservative for the party leadership:
"Elvi is solid. She's decisive. She says what she means and means what she says. She believes in people, and that they deserve a leader not someone who licks their finger after every question to see which way the wind is blowing. She's a rock, she's whip smart, and she works really hard. AND, she's thinking about running for U.S. Senate," the Alaska Democratic Party posits. The party has been messaging for months that it is done with Murkowski, a candidate many Democrats have supported over the past two decades, due to her pro-choice position on abortion, and other stances.
This up-and-coming Senate candidate is the same Gray-Jackson who has authored legislation that some view as anti-police and anti-public safety.
She also authored legislation this year to make Juneteenth made into another official legal holiday for State of Alaska workers, shutting down government for a day and paying state workers to play. This summer Congress passed similar legislation that allows federal workers to take Juneteenth off.
Some of the legislation Gray-Jackson has authored that has not passed this year is SB 1, use of force by peace officers; SB 2, relating to how police de-escalate situations; SB 3, mandating officers must give warning before shooting a firearm; SB 4, use of force and ban of shooting from a moving police vehicle; and SB 5, the Juneteenth holiday for state workers.
Gray-Jackson represents the Anchorage midtown, Spenard, and U-Med District in the Alaska State Senate; she ran for former Sen. Berta Gardner's seat when Gardner retired. She also anchors the far left of the Alaska Democratic Party in a state that voted for Donald Trump for president by 53 percent.
It's unclear what Gray-Jackson will be able to do in the way of campaigning, since that is prohibited for legislators while they are in session. Will she resign in order to run for U.S. Senate?
Gray-Jackson has a long career in politics. Before joining the Alaska Senate, she was on the Anchorage Assembly for several terms, and she was an Assembly aide before that.
A Republican candidate, Kelly Tshibaka, has won the Alaska Republican Party endorsement and is already campaigning hard. She will appear on the brand-new open primary ballot on Aug. 16, 2022. Sen. Lisa Murkowski has not yet declared her candidacy, although she, like all members of Congress, keep their campaign accounts alive at the Federal Election Commission, and she has continued to raise millions of dollars.
The general election is a ranked-choice voting scenario with the top four winners from the August primary on the ballot Nov. 8, 2022.