Anchorage mayoral candidate Dave Bronson has out-raised opponent Forrest Dunbar by $77,000 in the 7-day report required by the Alaska Public Offices Commission.
Seven-day reports cover all the money coming in and going out between the 30-day report and the 7-day report, 23 days total, for the May 11 runoff election.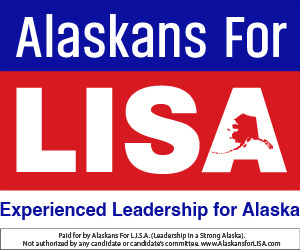 Over 47,000 ballots have already been cast in the Anchorage mayoral runoff, which is over 50 percent of the expected vote. That means all campaign fundraising and expenditures after the 7-day report will be used to reach a diminishing number of potential voters.
Dunbar shows $222,378 raised in his 7-day report. His total raised in his quest for mayor is $591,070, and he has $94,000 in bank, and $91,000 in debt. He has dozens of contributors from outside the state.
Bronson shows $299,708 raised in his 7-day report. He has $65,000 in debt and $66,000 in the bank. Bronson has raised close to $559,029 since beginning his campaign, about $32,000 less than Dunbar overall.
In his latest email quest for funds, Dunbar tells donors that he is $75,000 below what Bronson has raised, and they need to open up their wallets to help him pay for social media, radio, television and literature.
Dunbar has reported spending a total of $501,301, while Bronson has spent $480,456.
Read: Final week push shows momentum in Bronson campaign, malaise for Dunbar