By WAYNE E. HEIMER
Years ago the late Kathleen "Mike" Dalton gave me custody of a pair of cufflinks allegedly commissioned by then-freshman U.S. Sen. Ted Stevens.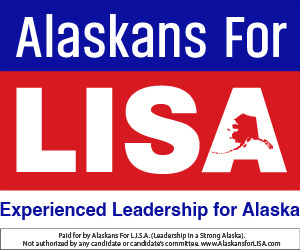 The inscription on the cufflinks was, "TO HELL WITH THE POLITICS! JUST DO WHAT'S RIGHT FOR ALASKA!"  In those days, doing what was "right" for Alaska meant bringing home as much federal cash as possible.  
Ted "Did what was right for Alaska," with a vengeance, selling off "pieces of Alaska" to the Feds for cash in dozens of ways.  In fact, Sen. Stevens was so good at "bringing home the bacon," he eventually earned the sobriquet, "The King of Pork."  
I no longer have custody of those cufflinks. When it became clear I'd never wear a formal cufflink-requiring shirt again, I donated that small piece of Alaska's history to a fundraiser for the Alaska Outdoor Council. I figured "Mike," a strong supporter of the Alaska lifestyle through the Alaska Outdoor Council, would approve.
Of course, Lisa Murkowski, eventually "became" Alaska's other senator, and she initially appeared to faithfully follow Ted's cufflink motto. Lisa hasn't exactly earned the title, "The Queen of Pork," but she's sold pieces of Alaska's future for cheap cash in many ways as well.  
Charity compels me to think Ted's obsolete ethic of "doing what's right" for Alaska keeps Lisa loyally bringing bacon home to her supporters. This could account for a lot of fascinating cooperation with the "woke" Democrats. After all, some Democrat votes wouldn't have hurt when she was campaigning for chair the Senate Appropriations Committee. 
Chasing that chair-ship might account for much of her dithering over confirmation of Supreme Court justices, impeachment votes, environmental sell-outs, and other "apparently-woke" things that didn't make sense to most of Alaska.  
That chance evaporated with that interesting election in Georgia. When the Democrats got control of the Senate, Lisa's courtship of Democrats came to nothing.  She was left out in the cold as Alaska's "lame duck" senator. 
Where she hasn't done so well following Ted's recipe is acting as a U.S. senator the way Ted did.  When the national interest was at stake, Ted proclaimed himself a 'United States' senator, and sometimes set aside Alaska's special interests to just do what was critical for the Nation."  I've not seen Lisa following in these footsteps.  I understand compromises must be made to "bring home the bacon," but Lisa doesn't explain, and I'm left to guess at what she's up to.
Both Lisa Murkowski and Dan Sullivan apparently "did what looked right for Alaska" by voting for the first "infrastructure" bill. In a joint statement, they said they voted for it because it contained funding for actual infrastructure projects that Alaska needed.  I might not approve, but I understand.  
However, it now looks like there might have been some strings attached to the pork in that bill. Having shown willingness to dip their toes in the federal infrastructure water, there's pressure to to vote for the scaled down "human infrastructure" (now "Build Back Better") reconciliation bill as well.  
That's the $3.5 trillion one that's now down to two trillion, but still contains all the Alaska-harmful climate control stuff, and would fund the USA as a globally functional socialist society. 
Now, we're told funding this socialist utopia won't cost anything, and will be on the books for only three three years.  To get started, we'll just print $2 trillion in paper money, which I gather is kind of like borrowing it. Here, I have admit that following this sort of economic hocus pocus has not been my life's work.
My perspective is that simply doing what's right for Alaska presently calls for killing the "human infrastructure" bill and maybe the tricky first one with it.  
Senator Sullivan has been plain that he's not for the second one (among other clear positions that make him look like a United States as well as an Alaskan Senator).  
Lisa has been curiously quiet on this, besides confirming the anti-petroleum Secretary of the Interior for Biden.  
To her credit, she did finally vote with the minority against confirming that very strange, "Earth First" Tracy Stone-Manning for BLM Director.  
Now that the Democrats "aren't showing Lisa any love," it would appear she remains a quaint caricature of "McCain maverick-ness" along with her lady pals from New England. I wonder what's in it for Alaska.
I suggest it's time for Alaska's congressional delegation to stand up like U. S. Senators from Alaska, maybe by "biting the bullet" and opposing the administration's infrastructure agenda that seems likely to harm Alaska's economy. 
Wayne Heimer is a 54-year resident of Alaska whom "Mike" Dalton apparently thought was "Alaska-aware enough" of to give him Ted's cufflinks.