By ALEX GIMARC
Alaska Sen. Lisa Murkowski styles herself as a champion of feminism.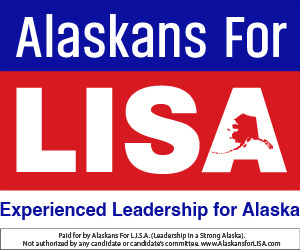 Since she has been in the U.S. Senate, her default position has been to support women, any woman, when the public relations battle orchestrated by Democrats, the media, and like-minded groups pit women against anything else.
The most obvious example of this was her feigned shock, horror and dismay at the NBC-Billy Bush tape released in October, 2016, which was intended as a kill shot to take Donald Trump out of the presidential race.  
Lisa was shocked — simply shocked — at Trump, and demanded he withdraw as the Republican presidential nominee at the last minute, which would have conveniently elected a woman, Hillary Clinton as president. Happily, he didn't.
But Lisa has championed feminist goals in other things, most notably judicial nominations. President Barack Obama's nomination of Sharon Gleason to the federal bench for the U.S. District Court of Alaska is a relevant example.  
Gleason was celebrated as the first Alaskan female on the federal bench.  It's too bad she decided to use her power as a federal judge to make law from the bench and shut down the Willow project on the North Slope this past summer.
Lisa also supported the nomination of Deb Haaland, as Secretary of the Interior. The rationale?  She was both a Native American and a woman.  
A lot of Alaska Native women supported the nomination because she was both a woman and a Native American.  Apparently, no consideration was given to what she actually believes, which is an anti-oil, anti-natural gas. She's a "green energy" fanatic.
This leaves us with last week's festive event, where, with Judge Gleason having agreed with the environmentalist whackos to shutdown down ConocoPhillips' Willow project pending completion of yet another round of more useless environmentalist paperwork, Haaland's Department of the Interior "accidentally" missed the window to appeal the opinion.
Great. Two women — Gleason and Haaland — collude to remove a couple hundred thousand barrels a day from the Trans Alaska Pipeline System, while the woman who proudly put them into office simply because they are women is silent. Worse, she is neutered, unable and unwilling to say or do anything.  
Now, I love the ladies as much as any other guy, but I never in my life voted for anyone because of the genitalia they were carrying.  Apparently, that is the critical consideration today, and the first among many considerations for our senior U.S. senator.  
Because of this, Murkowski now owns the Willow cancellation, and the 160,000 lost barrels a day through TAPS.
Murkowski is up for reelection next year. Perhaps she ought to explain how and why in her world genitalia is more important than jobs and an economic future for Alaskans. I don't think she can or will. And I also don't think she can or will do anything about Willow.  
Perhaps it is time that Alaska is represented by a U.S. senator governed by something other than the importance of body parts. Perhaps it is time that Alaska is represented by someone, anyone, who chooses to represent all Alaskans, rather than the half of the population of the state with the correct plumbing.  
Alex Gimarc lives in Anchorage since retiring from the military in 1997. His interests include science and technology, environment, energy, economics, military affairs, fishing and disabilities policies. His weekly column "Interesting Items" is a summary of news stories with substantive Alaska-themed topics. He was a small business owner and Information Technology professional.