In a newly uncovered video of a meeting with Alaska Democratic leaders, Rep. Cal Schrage had harsh words for the governor's management of the Covid-19 viral outbreak in Alaska.
The event was an online meeting of the Democrat Bartlett Club. Schrage is a non-party candidate who aligns with Democrats and is part of the Democrat-led caucus in Juneau.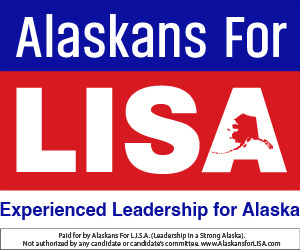 Schrage criticized the governor for not enacting a statewide mask mandate and said this was an example of the need to elect strong progressives leaders who would take more stringent measures.
"We're trying to think of something we can do to force the governor to take action," said Rep. Harriet Drummond, who was interviewing Schrage for the Bartlett Club. "And there really isn't anything. That's the tough part."
Schrage responded:
"Yeah, and there are certain things that are under the purview of the Legislature, and governor," Schrage said. "I don't know that I have an immediate solution to that other than just to be strong advocate for common sense public health and safety measures like wearing a mask. How hard is it? You know we really should have a mask mandate from the governor. We know that it's effective in stopping the spread of the virus and so there is absolutely no reason we should not have a statewide mask mandate. From the start the governor bungled this entire situation."
There have been about 280,000 reported cases of Covid-19 in Alaska, but an unknown number of people have had Covid, but have not had it catalogued by the government. Some 1,280 deaths of Alaskans have been attributed to the illness. Alaska has one of the lowest death rates from Covid, with only Washington, Utah, Hawaii, and Vermont having fewer Covid-attributed deaths.
Schrage, shown above without a mask with Democrat Rep. Grier Hopkins just two months after the video was recorded, is running for reelection for what is now called House District 12, where he is challenged from the Republican side by Jay McDonald. This is the district formerly known as D-25.