Megan C. Mackiernan is the new chair for the Alaska Commission on Human Rights, replacing Brandon Nakasato.
Marcus Sanders, pictured above, has been elected vice chair and will help lead the hiring of a new executive director.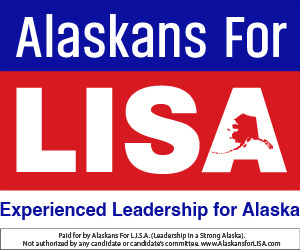 The previous chair and vice chair resigned after a scandal enveloped both the staff and governing commission. It involved a "Black Rifles Matter" decal on a truck parked in the agency's parking lot and former Executive Director Marti Buscaglia's inappropriate actions in response to that decal.
Upheaval at the agency occurred after Buscaglia ordered a workman to remove his truck and its "Black Rifles Matter" sticker from the agency's parking lot. This was seen by many Alaskans to be an abuse of power.
The state investigated the matter and handed its findings to the commissioners of the agency, but they chose to retain the executive director. Her punishment was a 15-day suspension and she was required to apologize to the workman. Instead, Buscaglia resigned.
Must Read Alaska has learned that former Executive Director Buscaglia has not apologized to the workman for misusing her position and mocking him on Facebook on the agency's official page. Such an apology is not likely to be forthcoming because it was a condition of her employment, which she terminated voluntarily.
The acting director of the agency, Sarah Monkton, has also since resigned.
The commission members now consist of three choices of Gov. Michael Dunleavy: Marcus Sanders, Anchorage; Cynthia Erickson, Tanana; and Debbie Fullenwider, Anchorage. The other four board members are David A. Barton, Anchorage; Christa J. Bruce, Ketchikan; Kathryn E. Dodge, Fairbanks; and Megan C. Mackiernan, Nome.
As a part of the agency's 2019-2023 strategic plan, the commission intended to work with the Alaska Legislature to add non-profits to its jurisdiction, which would give it authority over 44,000 additional workers in everything from dog shelters to faith-based organizations.