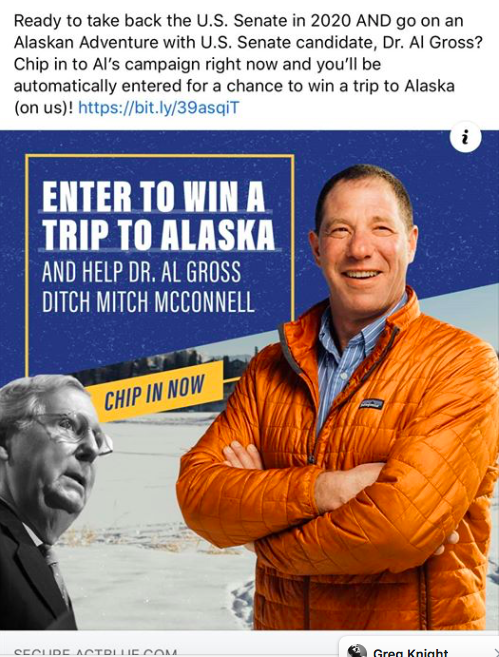 Poor Siamese twins. They just can't get a break from the liberals.
In a story in the Huffington Post, a publication for Democrats and progressives, Alaska's top liberal political operative Jim Lottsfeldt called U.S. Sen Dan Sullivan and President Donald Trump "Siamese twins." 
Ouch. Even NASA doesn't use that phrase anymore to describe galaxies.
The "Siamese twins" term was almost as bad as the one that Sullivan's opponent Al Gross used earlier this month, when he said he alone has the testicles to do the job of senator. That "cojones" comment got him called on the carpet by the Democrat matriarchy, who didn't appreciate their ovaries being disrespected.
Huff-Po, as the publication is known, described candidate Gross as a gun-slinging doctor of the last frontier, perpetuating his "I killed a bear" story, which has never actually been corroborated but has become somewhat of an article of faith for the Gross campaign.
In the long-form story this week by Daniel Marans, Gross says he is for the Second Amendment, but also for universal background checks for gun purchases, something that is not only impractical but nearly impossible for those in rural Alaska to accomplish.
The story also says that Gross is on the record for universal health care for all, but not Medicare for all. Gross doesn't explain how universal health care and Medicare for all are different.
Even the writer of the story acknowledges that Gross' grandiose depiction of himself as a rugged outdoorsman, was a bit over the top.
"Is it a campaign advertisement, or the trailer for an episode of 'Running Wild with Bear Grylls'?" Marans wonders.
"For the first few seconds of a 1-minute television spot that began airing in Alaska in July, it's hard to know for sure."
"'He was born in the wake of an avalanche,' a narrator with a deep baritone informs viewers as the camera shows a boat traversing an Alaskan bay. 'Bought his first fishing boat with a bank loan at age 14.'"
Then, of course, comes the bear story. No national writer can resist that. The story goes that Gross shot a bear in "self defense." This is the tale that Gross keeps telling Outside donor prospects, and they are on the edge of their seat about it.
Alyse Galvin, running against Don Young for Congress, is a like-minded nominee for the Alaska Democrats, but she has no bear story, no cojones, and no fishing boat. Gross is playing to his testosterone.
What's apparent is that Gross is also borrowing the larger-than-life lifestyle of Gov. Mike Dunleavy, who actually did live in rural Alaska for over a decade, and who has a ranch outside of Wasilla, where he raised mules and other animals, homestead style. Dunleavy is the Paul Bunyan character that Gross is trying to emulate.
The writer at Huff Po admits that many in Alaska just aren't buying the marketing of Al Gross. And Gross doesn't help himself when he tells people that if it was Lisa Murkowski up for reelection, Gross probably wouldn't have run against her, because she "stands up for Alaska." More likely, that he doesn't think he can take her.
The Huff Po story is like many being rolled out in the leftist media this cycle, repeating the theme of rugged individualism from the Democratic Party's preppy nominee for the U.S. Senate. The world has an insatiable thirst for these mythical creatures.
But the reporter never asks why Gross made millions off of Alaskans before he retired comfortably from the daily grind of being a surgeon.
Huff Po never asked how Gross was able to milk exorbitant prices from the state employees health benefits program, and whether his vertical service referral system, where he tested and diagnosed by referring patients to his own equipment, is moral or ethical for the profession.
So many questions about Gross' past are left unanswered by the Huff Po, which simply accepts the spoon-fed narrative that the Gross team is dishing out to willing stenographers of the press.
Read the Huffington Post story at this link.