A text showing up on Anchorage voters' phones appears to come from the Alaska Democratic Party, and it urges voters to cast their ballots for Democrat candidates Starr Marsett and Margo Bellamy. Marsett and Bellamy are running for the supposedly nonpartisan School Board seats.
So much for a nonpartisan local election. If the Alaska Democrats are involved, it's partisan all day long.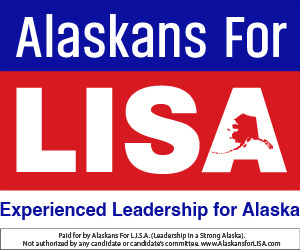 The text reads: "Hi, it's Casey with AK Dems. Please mail/drop off your ballot by Apr 2! Vote Starr Marsett & Margo Bellamy-School Board. Questions: https://bit.ly/2W3theP or 907-243-8683."
The link goes to the Anchorage Municipal Election Division's website and the phone number takes you to the Municipal Clerk's office.
Steve Strait, who is active in Republican politics and campaigns, received the message and filed a complaint with Alaska Public Offices Commission, saying that it is a clear violation of campaign laws since it lacks a "paid for by" disclaimer on it.
Strait said he wants to know if the Alaska Democratic Party paid for the robo-text during this election, or was it paid for by the campaigns of Starr Marsett and Margo Bellamy, both Democrats, and what APOC will do about the violation.
Whatever the action, and whatever the penalty, Tuesday is the last day to vote and APOC will not be able to effectively correct the infraction, because the agency must first decide if the "Casey" is Casey Steinau, chairwoman of the Alaska Democratic Party, and who paid for the stealth voter push. That could take days — or even weeks.
Strait was the focus of media attention recently because he is the head of a group called Families of the Last Frontier, which has put at least $7,000 into the municipal races, for conservative candidates.
Alaska Public Media featured Strait as the chairman of the group because it was getting much of its money from an out-of-state source, GOPAC. Families of the Last Frontier is backing school board candidates Kai Binkley Sims and David Nees.