CANDIDATES ARE LOOKING FOR THOSE 2019 CONTIBUTIONS
All candidates in Alaska are hoping people will shake loose a bit of help or them before the calendar turns over. Alaska law says individuals may give no more than $500 to a candidate in a single year.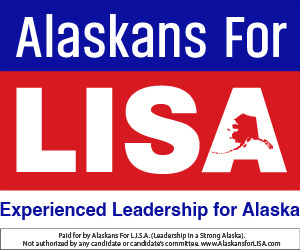 That means $500 this year, and $500 next year, if you are really getting behind a candidate, for a grand total of $1,000 for an election cycle.
Most use the cut-and-paste templates that come with payment software, but not Sen. Josh Revak. He's got donation categories that show a bit more of his personality, his generation, and his military history — categories that include the "MORE COWBELL" level of $250, which refers to a classic Saturday Night Live skit, and the "I'M BROKE, BUT I LOVE REVAK!" level for $20.
Revak is running for Senate Seat M, Anchorage hillside, which he won by appointment this fall after Sen. Chris Birch passed away. He previously served as a representative for District 25, a seat he won in 2018.
Alaskans have until midnight on Dec. 31 to make that 2019 contribution.