By DAN FAGAN
Anchorage Rep. Jennifer Johnston apologized. So what? What else could she do? Double down on her position that rural Alaskans can't handle two stimulus checks at once?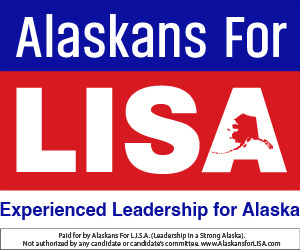 Johnston told Alaska Journal of Commerce managing editor Andrew Jensen, that House leadership, of which she's a member, decided to delay issuing Alaskans a dividend check in the spring because it would come at the same time as a $1,200 federal check. 
"Have you ever been to the villages at dividend time?" Johnston asked Jensen, trying to convince the reporter rural Alaskans don't spend money wisely.
[Read: Co-chair of Finance doesn't trust rural Alaskans with spring check]
Johnston also told Jensen "social services would be overwhelmed" in villages if they got two checks at once. Johnston never denied what Jensen reported. 
For Johnston and her fellow House leadership team to deny Alaskans a $1,000 spring check because they don't trust the very people they're elected to serve confirms our worst fears about politicians. There's never been a time in state history, with thousands out of work, when that check is more desperately needed. What a betrayal.
It took a couple of days for the media to finally report the story. If Gov. Michael J. Dunleavy had said such a thing the Anchorage Daily News would have printed so many stories and columns on it, they would have ended up destroying three forests. 
Even though the media finally reported the story, they still haven't asked the big question. Was Johnston telling the truth? Did House leadership really decide to withhold a spring dividend check from all Alaskans because they don't trust villagers?
It seems easy to find out. Ask House Speaker Bryce Edgmon. Ask other members of House leadership. Of course, they'll throw Johnston under the bus and deny it. But the media should do its job and put everyone on record on the issue. After all, it impacts so many Alaskans.   
Johnston also told Jensen Alaska's Congressional delegation lobbied the legislature to withhold a spring dividend because villagers can't responsibly handle two checks at once.
[Read: Johnston apologizes for hurtful statements about rural Alaskans]
Jensen asked Rep. Don Young, and Senators Lisa Murkowski and Dan Sullivan about Johnston's claim. All three said neither they nor any member of their staff did such a thing. It's hard to say who's being truthful. This we do know. Somebody's lying.  
Occasionally a politician gets caught telling the truth. Like when former President Barack Obama was recorded at a private fundraiser criticizing middle Americans for being bitter and clinging to their guns and religion.
We know most currently serving in the Alaska legislature don't trust their constituents and view their jobs as protecting us from ourselves. Johnston simply got caught saying what most of her colleagues believe.
But the fact she singled out rural Alaskans as untrustworthy makes her admission even more telling. 
Dan Fagan hosts a radio show on AM650, KENI, weekdays mornings from 5:30 to 8. Email Dan at[email protected].