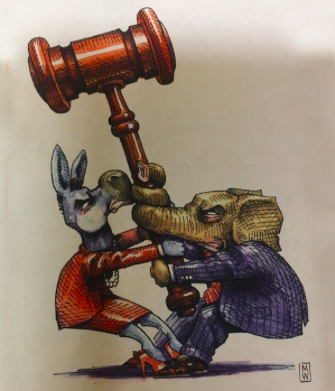 A 21-19 Republican majority in the House looks like a win this November for Republicans. On paper it is, but in reality, Republicans are still not in control this year. The truth is, they have not been in control for several years, and that's partly because they cannot stick together. They've been experts at snatching defeat out of the jaws of victory.
In 2014, Republicans won 23 of the House seats, Democrats had 17. The Muskox Caucus — recalcitrant or reluctant Republicans — was just getting started, and it would be led by former Reps. Jim Colver, Gabrielle LeDoux, and a couple of others, now retired.
By 2016, Republicans had lost two seats, and were down to 21, Democrats had 19. With Rep. Mike Chenault stepping down from the speakership at the beginning of 2017, House Republicans were adrift without strong, unifying leadership.
In 2018, Republicans won 23 seats, Democrats won 17, but due to eight Muskox Republican defections, the Democrats have been in charge for the past two years. Bryce Edgmon was speaker, agreeing to drop his Democrat label and masquerade as an undeclared.
The red wave that occurred on election night in 2020 dissolved into a red mirage after tens of thousands of unwitnessed and unverified absentee ballots washed in over several days. There is now evidence that these absentee ballots had a historically low rejection rate from the Division of Elections.
In spite of the 21-19 math, it's actually now at 20-20 in 2020.
Rep. Louise Stutes, a Republican from Kodiak, will most likely caucus with Democrats, while no-party Josiah Patkotak of Utqiagvik says he will also caucus with Democrats, or at least stick with the Bush caucus, which is with the Democrats, led by Bryce Edgmon of Dillingham.
That leaves the other Republicans: Bart LeBon, Steve Thompson, Mike Prax, Mike Cronk, Chris Kurka, Kevin McCabe, George Rauscher, David Eastman, DeLena Johnson, Cathy Tilton, Ken McCarty, Kelly Merrick, David Nelson, Sara Rasmussen, Tom McKay, Laddie Shaw, James Kaufman, Ron Gillham, Ben Carpenter, and Sarah Vance.
With just 20, they can either work together on the items they can agree on, or some of them could form a bipartisan coalition with the Democrats. There is also a solid chance that the most conservative members in the Republican caucus break off into a sub-caucus, while the more liberal members join with the Democrats in a "something is better than nothing" bargain, leaving the Republicans out in the wilderness.
The 20 Republicans will have to decide if sticking together is more important than committee chairmanships and controlling spending.
They'll have to decide if they want to even be in charge of a budget where there's not enough money, where there's pressure for a sales tax and eliminating the Permanent Fund dividend altogether, or whether being a powerful and united minority is just as impactful this time around.
The problem with Republicans in the Alaska Legislature is that holding together hasn't been their strongest suit in recent years. But this year, if the majority of the 20 can unite, they can still control everything, as a strong minority.
The "don't blink" theory also applies the 20 Democrats, however. They are made up of much more experienced lawmakers, with only three freshmen, while the Republicans have eight freshmen and a host of relatively new lawmakers who have never served in a majority. Democrats know how to count votes, and have dealmakers among them. The Democrats also have a leader in Edgmon, who has served as Speaker, while the Republicans have lost their own minority leader, with Lance Pruitt apparently losing by 16 votes to Liz Snyder in District 27.
In the words of a veteran lawmaker, "It's a mess. Don't expect this House to organize any time soon."