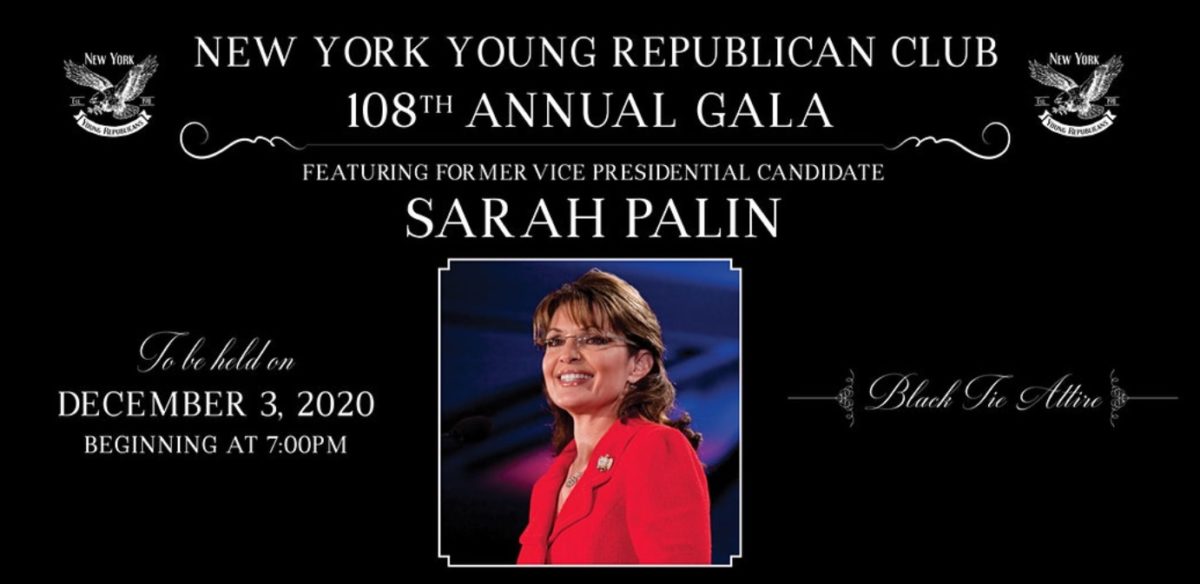 The New York Young Republican Club announced the keynote speaker of its 108th annual gala as former Gov. Sarah Palin. The club's Dec. 3 program hails Palin as a "history-making woman leader, GOP kingmaker and beloved 'Mama Grizzly,' Governor Palin's maverick personality, spot-on political instincts and deep connection with "the silent majority" of American voters have made her one of the most influential women in conservative politics."
The event is a black-tie affair at the Caldwell Factory event center in the West Chelsea Historic District of New York City. Tickets are going for $325 per person for non-members, $285 for members, and it includes a three-course meal.
Formally established in 1911, although with its roots dating to 1856, the New York Young Republican Club is the oldest Young Republican club in the United States. 
"As one of the earliest endorsers of President Trump, Governor Palin injected vital support and game-changing momentum at a critical juncture in the battle for the Republican nomination. Today, Governor Palin continues to fight for the millions of Americans that are often overlooked by Washington and the mainstream media. Drawing full houses and standing-room-only crowds, Sarah Palin calls upon all Americans—of all political persuasions and beliefs—to get motivated, get involved and join together to build a brighter future. Known for her meteoric rise from first female (and youngest) Governor of Alaska to first woman on the GOP presidential ticket, Governor Palin has captured hearts and minds around the world with her outspoken honesty, fearless principles and passionate personality. Recognized as one of TIME's "100 Most Influential People" and Forbes' 100 Most Powerful Women," Governor Palin is also one of only 21 women on Smithsonian's "100 Most Significant Americans of All Time" list. In election after election, her endorsement and the support of her political action committee, SarahPAC, are considered the gold standard for conservative candidates," the Young Republicans wrote on their announcement.