Former Sec. of Defense Donald Rumsfeld died on Tuesday at the age of 88.
"It is with deep sadness that we share the news of the passing of Donald Rumsfeld, an American statesman and devoted husband, father, grandfather and great grandfather.  At 88, he was surrounded by family in his beloved Taos, New Mexico," his family wrote in a statement. "History may remember him for his extraordinary accomplishments over six decades of public service, but for those who knew him best and whose lives were forever changed as a result, we will remember his unwavering love for his wife Joyce, his family and friends, and the integrity he brought to a life dedicated to country."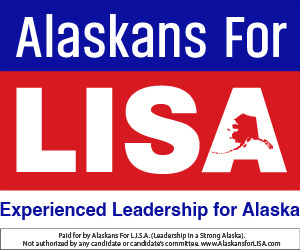 Rumsfeld served in the administrations of Presidents Gerald Ford and George W. Bush. He was in charge of the response to the terrorist attacks on the country on Sept. 11, 2001 and oversaw the Iraq War and the war in Afghanistan.
Rumsfeld served in the U.S. House of Representatives for three terms, representing Illinois, was White House Chief of Staff in 1974-75, was the U.S. Permanent Representative to NATO, and held many other positions in government. In addition, he served on the boards of various companies.
In 2006, he traveled to Alaska with U.S. Sen. Ted Stevens for the ribbon cutting of the Alaska-Siberia Lend-Lease Memorial Sunday at Griffin Park in Fairbanks, installed to honor American and Russian aviators and troops who ferried nearly 8,000 American-built warplanes from the Midwest through Canada to and to Fort Wainwright at Fairbanks during World War II. 
From Fairbanks, members of the Soviet Air Force piloted the planes across Alaska and Siberia to the Russian warfront. Due to the severe weather conditions and mechanical problems, 133 airplanes crashed in North America and 44 in Siberia along the Alaska-Siberia Airway.
"The way to pay proper tribute to the achievements of those we honor today is to answer the new dangers that we face with the clarity, unity and courage those aviators and the men and women who served here demonstrated in those desperate times," Secretary of Defense Donald Rumsfeld said in 2006, during the ceremony at Ladd Field. "We hope we will face the troubled world as it is, and not as we wish it would be." 
Rumsfeld, fulfilling that prophecy of living and facing the realities of an imperfect world, resigned later that year as the war in Iraq and Afghanistan became fraught with controversy.
Rumsfeld wrote his autobiography Known and Unknown: A Memoir, and Rumsfeld's Rules: Leadership Lessons in Business, Politics, War, and Life.
Former President Bush wrote and released this statement:
"On the morning of September 11, 2001, Donald Rumsfeld ran to the fire at the Pentagon to assist the wounded and ensure the safety of survivors. For the next five years, he was in steady service as a wartime secretary of defense — a duty he carried out with strength, skill, and honor.
"A period that brought unprecedented challenges to our country and to our military also brought out the best qualities in Secretary Rumsfeld. A man of intelligence, integrity, and almost inexhaustible energy, he never paled before tough decisions, and never flinched from responsibility. He brought needed and timely reforms to the Department of Defense, along with a management style that stressed original thinking and accountability. As Commander in Chief, I especially appreciated how Don took his job personally and always looked out for the interests of our servicemen and women. He was a faithful steward of our armed forces, and the United States of America is safer and better off for his service.
"In a busy and purposeful life, Don Rumsfeld was a Naval officer, a member of Congress, a distinguished cabinet official in several administrations, a respected business leader – and, with his beloved wife, the co-founder of a charitable foundation. Later in life, he even became an app developer. All his life, he was good-humored and big-hearted, and he treasured his family above all else. Laura and I are very sorry to learn of Don's passing, and we send our deepest sympathy to Joyce and their children. We mourn an exemplary public servant and a very good man."