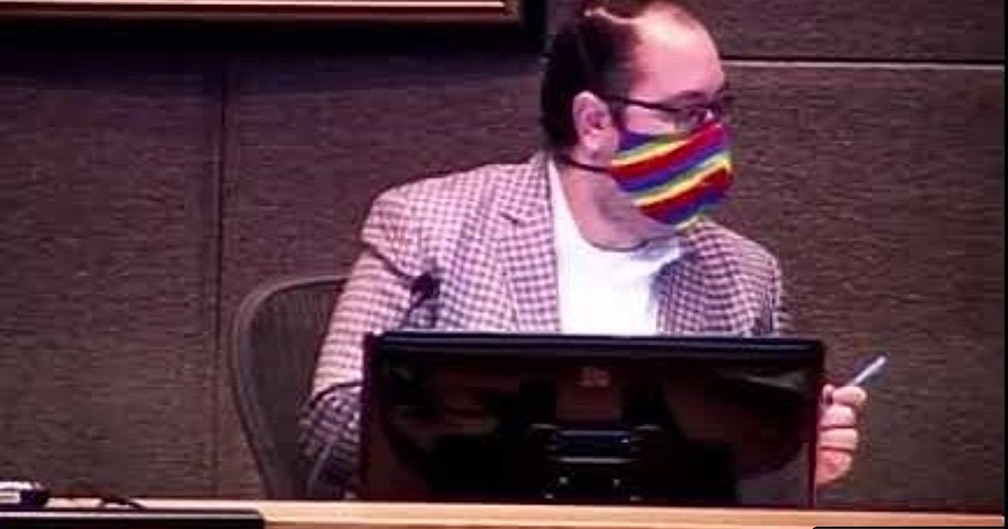 A resolution condemning violence in the nation's capital on Jan. 6 was vigorously debated during the Anchorage Assembly meeting on Tuesday, after conservatives in the room took issue with the way it blames Trump supporters, and won't acknowledge that Alaskans who went to Washington, D.C. for the Save America protest were not part of the violence.
One member of the public who went to D.C. spoke during the public comment part of the proceedings and said the resolution was shameful.
"I think it is absolutely outrageous and unfair to assume that everybody was invading the Capitol. There were tens of thousands of Americans that were peacefully protesting," said Eagle River resident Kristine Schuster. Some 73 million voted for Trump, and crowd estimates at the Jan. 6 Save America rally put the size at over one million.
Although it turned violent at the front of the protest, violent riots across the country during the summer and fall of 2020 included many attacks against police, and yet the Assembly never issued a message of condemnation, noted Assemblywoman Jamie Allard.
In fact, 25 people were killed across the country in 2020 during riots that involved Black Lives Matter and Antifa. Five of them were Dallas police officers who were ambushed by left-wing urban terrorists in payback for the Floyd George killing at the hands of police in Minneapolis.
The draft resolution is at this link.
"These are simply the facts," said Suzanne LaFrance, referring to Trump supporters' involvement in violence at the U.S. Capitol.
Assemblyman Forrest Dunbar wanted the resolution to state that Joe Biden won the election fairly, but his amendment was voted down. It was just getting too partisan. Dunbar, who has been mainly appearing at meetings telephonically, is running for mayor and is a hard partisan Democrat.
Assemblyman Chris Constant said he had no proof that Alaskans who went to DC were not engaged in violence.
Without evidence, the Assembly's resolution inaccurately states a police officer was "bludgeoned" to death by a fire extinguisher. Social media video shows a fire extinguisher being tossed into a crowd of police by one person, hitting one or more of the officers in the head, but the weapon was not used as a bludgeon. An officer subsequently died a few hours later.
The resolution is also inaccurate in blaming rioters — plural — for the "bludgeoning" of a police officer with a fire extinguisher. It was the act of one person, if the video is correct, rather than more than one. However, other video shows group violence against other officers trying to barricade the Capitol from the onslaught.
"Our city is dying, and this is what you're spending time on?" said Schuster, a military veteran who made it to the podium to comment, only to be interrupted by Assemblywoman Meg Zalatel, who said "point of order." It was Schuster's first Assembly meeting.
The resolution said that it is, in part, to ensure that the "bounties of freedom are equitably shared among us," a nod to the collectivist principles of communism.
The resolution also snubbed Sen. Dan Sullivan, saying, that it wanted "To thank those elected officials who have condemned the violence at the U.S. Capitol, especially Senator Lisa Murkowski and Representative Don Young, who have called for bipartisan cooperation as we move forward as a nation."
Assemblywoman Allard asked for an amendment to include thanks to Sen. Sullivan and Gov. Mike Dunleavy. That amendment passed.