House Finance Committee has introduced a bill that would give Alaskans their full $3,000 Permanent Fund dividend this year — but there are a few hitches.
The bill changes the formula going forward and would cut future dividends in half.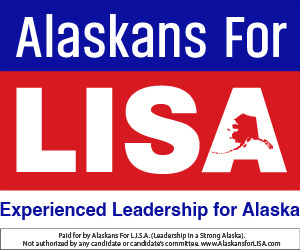 HB 1005 would pay some of the dividend out of the Constitutional Budget Reserve fund this year, which means it's no longer a dividend from the Permanent Fund at all, but is simply a cash payment to Alaskans.
Paying the dividend from the CBR would set a precedent that would change the contract Alaskans have with their government — that their portion of the resource wealth of the state comes in the form of an annual dividend off of the Permanent Fund earnings.
House Bill 1005 will be heard at 9 am on Thursday in House Finance Committee. The committee is run by Rep. Tammie Wilson, a North Pole Republican and Rep. Neal Foster, a Nome Democrat. House Finance bills offered by committee typically come from the ruling caucus, which is controlled by Democrats with the help of Republicans like Wilson.
It would move $500 million from the Constitutional Budget Reserve to the dividend fund. It would preserve the current method for calculating the Permanent Fund dividend, but instead of 50 percent of earnings of the Fund going to Alaskans, they would only get 25 percent going forward.
HB 1005 does nothing to change the Percent of Market Value formula enacted two years ago, where the state draws down 5 percent of the Percent of Market Value of the fund's Earnings Reserve Account to pay for government and pay dividends Instead, HB 1005 takes the statutory net income that goes to the dividend — now at 50 percent — down to 25 percent.
The contingency language in HB 1005 says that the formula going forward must be passed in a bill by October, but there is no bill to vote on yet. There is also no vote of the people involved, which the governor and other Republican lawmakers have called for.
If the bill was in effect for this year, the current dividend of $3,000 would be cut to $1,500.
TAPPING THE CBR WOULD BE HISTORIC
The Legislature has never before tapped the Constitutional Budget Reserve to pay the dividend, because the dividend has always come from earnings.
It appears that House Majority members are trying to bait the governor into signing off on a $3,000 dividend that has a poison pill in it — a restructuring of the contract with Alaskans and their share of oil wealth.