Reps. Chuck Kopp and Jennifer Johnston today introduced House Bill 306, their suggestion for how to pay for government and give some kind of a Permanent Fund dividend to Alaskans.
The bill would give 80 percent of available revenue from the Permanent Fund Earnings Reserve to government, while 20 percent would be used for the annual dividends to Alaskans.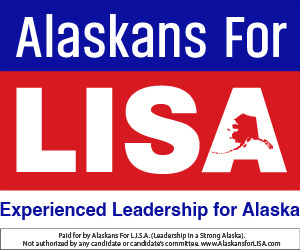 "House Bill 306 provides stability for our economy and communities and puts an end to the structural deficit built into the state budget," explained the news release from the House Majority press office.
"Private sector and community leaders have been pleading that the state prioritize stability and certainty in our fiscal planning," said Kopp, an Anchorage Republican, in the news release.
"HB 306 makes clear that we view it to be more important to preserve the health of our economy and communities than allow the dividend to continue to dictate our budget structure." – Rep. Chuck Kopp
The bill, should it be signed into law, would halve the size of last year's dividend, which was $1,600. The bill has been referred to just one committee, Finance, co-chaired by Rep. Johnston, the bill's cosponsor.
HB 306 is a statutory change, which may mean nothing in practical terms, since there is already a statutory formula that the Legislature has ignored for three years.
Four years ago, Gov. Bill Walker took half of the dividend, but did not use it for government. He just left the money in the Earnings Reserve Account. Three years ago, the Legislature started following the governor's lead, using half of the dividend for government.
Now, the recommendation is 80 percent for government.
A separate bill from Rep. Adam Wool recommends that only 15 percent of the available funds from the Earnings Reserve Account be used for dividends, with the remaining 85 percent used for government.