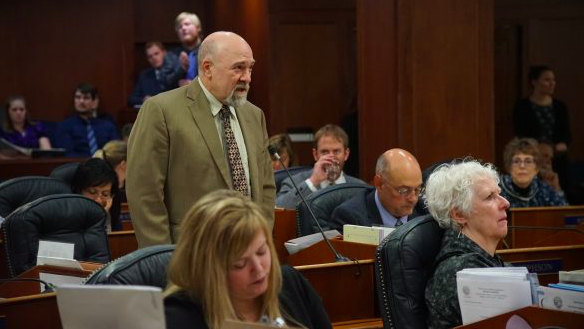 A new bill offered by Fairbanks Democrat Rep. Adam Wool would take even more of Alaskans' Permanent Fund dividends and give it to the University of Alaska, K-12 education, capital projects, and more.
Under HB 300, the annual draw on the Permanent Fund Earning Reserve account would be first allocated to state programs, and what remained would be split 50/50 between the General Fund and the Permanent Fund dividend. That means the dividend would be about $700 this year, according to Wool's formula.
The bill takes the 5.25 percent of market value from the Permanent Fund Earning Reserve account, and routes it to various state funding pools:
40 percent would go for k-12 education.
10 percent would be for the University of Alaska
10 percent would go into capital projects.
10 percent would go back to communities through the community assistance fund.
That would consume 70 percent of what is available from the POMV draw, and leave 30 percent to work with.
Half of that 30 percent would be used for Permanent Fund dividends, and the other half would be allocated to the General Fund.
"This plan allows a dividend that is sustainable while also addressing the needs of our communities," Wool said. "Businesses, public servants, municipal governments and Alaskans all deserve stability. By protecting the Permanent Fund, committing funding to essential services, and directing funds to capital projects and communities, we can now focus on building Alaska's future.
The bill has been referred to House Finance Committee.