Alaska is one of just seven states where monkeypox has not been diagnosed since May, when the outbreak started in the United States.
The painful, disfiguring, and pustular disease has spread quickly through the gay male community of men having sex with multiple partners of men. Over the past two weeks, the case reports of monkeypox has doubled, and is considered to be underreported.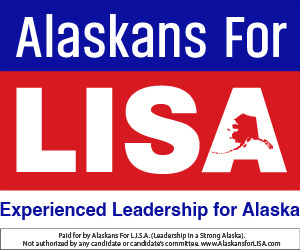 The CDC says 2,323 cases have been diagnosed, as of Tuesday. Wyoming, Montana, North Dakota, Mississippi, Maine, Vermont, and Alaska have not yet reported cases. 
California, with its large gay male community, has had 356 confirmed cases of monkeypox, the most of any state. A coalition of LGBT organizations there has written to the Biden Administration asking for more testing and vaccines, and are warning that California is at risk of becoming the global epicenter for the disease. The supply of vaccines for monkeypox are limited.
"We, at the Los Angeles LGBT Center, are fearful that the government's history of not taking the necessary action to protect the LGBT community when facing a public health threat is repeating itself with the current Monkeypox response," said Joe Hollendoner, CEO of the Los Angeles LGBT Center, the nation's largest LBGT advocacy group.
"It has been a mere nine weeks since the United Kingdom announced it had detected four cases of monkeypox, a virus endemic only in West and Central Africa. In that time, the number of cases has mushroomed to nearly 13,000 in over 60 countries throughout Europe, North and South America, the Middle East, new parts of Africa, South Asia, and Australia," writes STATNews.com. "The growth in cases and the geographic spread has been rapid and relentless. Now, even as global health officials race to curb spread of the virus, most experts polled by STAT said they don't believe it will be possible to contain it."
"I think we missed that train at this point," said Gary Kobinger, director of the Galveston National Laboratory at the University of Texas Medical Branch and a member of an expert committee that advises the World Health Organization's Emergencies Program.
Read STATNews' report at this link.
Monkeypox has symptoms similar to smallpox, but it's rarely fatal. It was discovered in 1958 when two outbreaks of a pox-like disease occurred in colonies of monkeys kept for research, the CDC says. The first human case of monkeypox was recorded in 1970 on the African continent.
The current outbreak is moving through Europe and the United States mostly within the sexually active community; the disease's pustules are painful for those having close intimate contact with someone who carries the virus.