DIGGING THROUGH THE DATA
Election nerds like numbers. They love charts, spreadsheets, tabs, data, and models.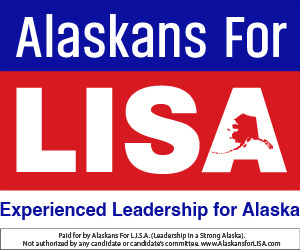 This is a numbers story for the election nerds in all of us, even the mathematically challenged. It's about who asked for absentee ballots and who turned out to vote early, easy data points from which even Common Core math survivors can glean conclusions:
TAKEAWAY 1: ALASKANS ARE TURNING OUT TO VOTE
The first day of early voting in 2014 saw 1,698 people turn out to cast their ballot at an early voting location.
It was an exciting year with a U.S. Senate race that featured Dan Sullivan challenging Sen. Mark Begich.
Alaska also had the strangely formed ticket of Bill Walker and Byron Mallott challenging Gov. Sean Parnell and the other Dan Sullivan. That was exciting.
There was also Don Young's congressional seat, as there is every two years.
In other words, the 2014 midterm election was a full and an exciting ballot.
Yet the first-day vote total was just under 1,700.
This year, it could be argued that the election is not as exciting — a governor's race and the U.S. House race, and the usual state House and Senate seats. Don Young is again up for re-election. There's a ballot initiative to lock up resources.
But look at the numbers: 3,280 people turned out to vote on Monday, the first day of voting.
That's nearly double the number who turned out on the same day in 2014.
Takeaway: Voters think this election is exciting. This was a huge turnout on the first day of early voting compared with four years ago.
TAKEAWAY 2: BALLOTS CAST ON DAY 1 OF VOTING
Of the 3,280  ballots cast on Monday, Oct. 22, the Republicans and conservative voters are favored:
944 – Republican (conservative)
915 – Undeclared (these voters lean conservative)
716 – Non-Partisan (these voters drift liberal)
631 – Democrat (liberal)
  52 – AIP (conservatives)
  13 – Libertarians (conservatives)
    8 – Green (liberals)
TAKEAWAY 3: ABSENTEE NUMBERS SUPPORT REPUBLICAN CANDIDATES
In 2014, immediately after Labor Day, some 2,453 Democrats requested absentee ballots, while 7,500 Republicans requested absentee ballots.
This year, in the same September snapshot, only 1,006 Democrats and 7,425 Republicans requested absentee ballots.
Democrats lost more than half of their absentee ballot program in four years, while Republicans remained essentially flat.
By Oct. 8, in 2014, Democrat voters had requested 4,955 absentee ballots.
This year, by Oct. 9, Democrats had only requested 2,252. Again — their absentee ballot efforts collapsed.
Republicans, in the same October snapshot, had requested 9,696 in 2014.
This year, by Oct. 9, Republicans had requested 9,537 absentee ballots.
It's too late for Democrats to make up the lost ground on the absentee voter front. They don't have the manpower or enough time on the calendar to get absentee ballots out to people, and to get them returned in time. They'll have to focus on getting out the vote by employing their usual methods.
One robin does not a spring make for Republicans, but early voting and absentee voting numbers look good for their candidates.