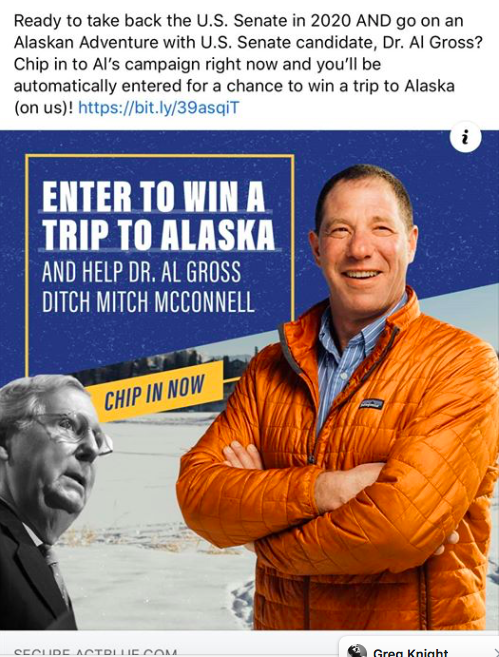 By CRAIG MEDRED
One of the most misguided political campaigns in Alaska state history was drawing to a close today with Dr. Al Gross still holding out hope for a miracle upset of incumbent Republican Sen. Dan Sullivan.
A Gross victory remained statistically possible as this was written. He needed only about two-thirds of approximately 83,000 outstanding votes to oust Sullivan if, of course, Sullivan got no more votes.
Realistically, to close a 52,000 vote gap, the remaining votes would have needed to break better than 80/20 in Gross's favor. Still, he had not conceded, even though the Associated Press early in the day called the election for Sullivan. 
Given the monstrous amount of money Gross and Gross-minded interests spent on the election, the candidate's reluctance to throw in the towel is probably understandable.
As of mid-October, Gross had reported raising $16.9 million – $7.1 million more than Sullivan – to fuel his campaign. And the campaign-money-tracking website Open Secrets was reporting Outside interest groups spent another $14 million attacking Sullivan and $4 million supporting Gross.
Nearly $35 million is a staggering amount of money to pay for about 100,000 votes. But then there were pre-race indications that Gross, born and reared in the Alaska state capital as the son of an attorney general for a Republican governor, had a solid chance of beating an immigrant Sullivan, the interloper from "Outside" as Alaskans commonly refer to the Lower 48 states.
"Ohio Dan," as Sullivan's critics liked to call him, was linked to the state primarily by marriage. His wife, the former Julie Fate, was a young woman from the Central Alaska city of Fairbanks when the couple met at Georgetown University in the nation's capital in the early 1990s before Sullivan began a career spent largely in government service.
Aside from being a Marine, Sullivan's Alaska cred isn't great. He comes from a wealthy family who saw to his prep school education. From there it was on to Harvard, Georgetown and a political appointment as a U.S. Assistant Secretary of State before being tapped as Alaska Attorney General in 2009 when then Gov. Sarah Palin was in the midst of a minor scandal called "Troopergate" and needed a lawyer far removed from Alaska politics; and finally Alaska Commissioner of Natural Resources under former Gov. Sean Parnell.
Clearly the Gross campaign looked at Sullivan's resume and tried to make the election a contest between a real Alaskan – grizzly bear slayer, commercial fisherman, outdoorsman, big-mountain skier, teenage entrepreneur and independent thinker – and an Outside product of privilege willing to kowtow to the Trump administration.
The pitch was a mistake that underlined how badly out-of-touch with average Alaskans the state's Democratic party.
Three words
The reality here is that Gross had a realistic chance of unseating Sullivan if he'd stolen an idea from President Donald Trump (God forbid) and listened to the decade's old advice of political consultant James Carville, the man largely responsible for the election of Democrat Bill Clinton as the nation's 42nd president in 1992.
"The economy, stupid" – a phrase widely misquoted since as "It's the economy, stupid" – was Carville's political advice to Clinton.
Gross should have listened.