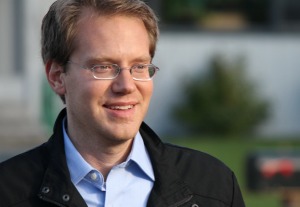 We have a nail-biter.
Rep. Lance Pruitt of East Anchorage leads challenger Liz Snyder by just 56 votes, after absentee ballots were counted for District 27 on Wednesday by the Division of Elections.
"The district is a cliff-hanger. It has been in the four of the last five elections, and nothing is new, it's all a matter who got the last three people to show up to vote," said Randy Ruedrich, who analyzes Alaska elections from a Republican perspective.
Must Read Alaska has learned there are fewer than 400 full-count absentee ballots and 50 questioned ballots to be counted for that district.
Several groups of ballots were counted from different areas of the state today. But no results were more interesting than District 27, where House Minority Leader Pruitt is fending off a second attempt by hardline Democrat Snyder.
Looking at the whole ballot, Pruitt is significantly outperforming the top of the ticket. Pruitt won more votes than Donald Trump Trump-3,975, and only 86 votes less than Biden-4,386. Pruitt did better than Democrat for Senate Al Gross-4,185, and Republican Sen. Dan Sullivan-4,171. Pruitt also did better than Congressman Don Young.
Snyder now has 4,244 votes to Pruitt's 4,300 votes.
The last batch to be counted in the district is thought to lean Republican, which may give Pruitt a few more votes. MRAK analysts believe he will win by about 70 votes.
In District 15, Republican David Nelson gained one vote in today's count. All of his absentee ballots and questioned ballots are counted, although some may come in until the close of business on Nov. 13. Those are thought to lean Republican. Nelson is 116 votes ahead of Democrat Lyn Franks.
Statewide, in Congressman Don Young's race, Democrat challenger Alyse Galvin needs 86% percent of remaining votes to win Alaska's only congressional seat, after some 20,000 votes were counted today.
In the Senate race, Sen. Dan Sullivan race, Democrat Al Gross needs about 90 percent of the remaining votes to win.
With about 56,373 votes left to be counted, the gap that Gross would need to close is 51,222.
As of 8:20 pm on Wednesday, 289,185 ballots have been counted in the 2020 General Election.