WHILE KETCHIKAN AND BETHEL VOICE GRAVE CONCERN OVER CUTS
The statewide discussion about the state budget is under way this weekend. On Friday, it was Juneau, and Saturday members of the House Finance Committee fanned out to Ketchikan, Bethel, Mat-Su, and Kenai to hear what Alaskans have to say.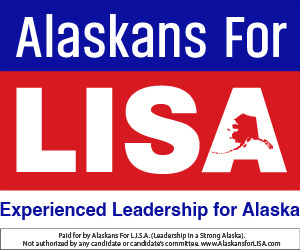 Today, the Finance Committee leadership, which is under the control of Democrats, appear in Anchorage, Sitka, and Fairbanks to hear from Alaskans about the size of government and how to pay for it.
It's a discussion prompted by the proposed budget of Gov. Michael Dunleavy, who downsized the government footprint to be about 78 percent of what it is today– a $1.6 billion cut starting July 1.
MAT-SU IS 'DUNLEAVY COUNTRY'
Nearly 200 people attended the hearing in Wasilla, and the testimony went about two-to-one in favor of Gov. Michael Dunleavy's austere budget and constitutional amendments to limit taxes, pay a full Permanent Fund dividend, and put a spending cap in place.
Rep. Tammie Wilson, a North Pole Republican member of the Democrat-led majority, moderated the meeting under the watchful eye of Speaker Bryce Edgmon, a Democrat who changed his party registration to undeclared so that he could form a caucus controlled by Democrats, but with Republican members.
Edgmon was noticeably uncomfortable in the conservative Mat-Su Valley and left about a third of the way through the hearing. He was heading to Kenai to monitor that hearing, which was occurring later in the day.
Some in the Mat-Su who testified expressed concern that education and health service cuts would devastate the state. A few attendees landed in the middle, favoring both moderate cuts and taxes. One person mentioned saving the ferries. But, as one woman put it, "this is Dunleavy country and karma is a b*tch!" She, like many others, said government had grown too large and she didn't want to pay taxes for more of it.
With 11 pages of people signed up to testify, and about 17 names per page, some people gave up and left before they could be called to give their opinion at the Mat-Su Legislative Information Office.  Not all could fit in the room, so they spilled into the outer office and small meeting room to wait their turn.
The beginning of the meeting trended 90-10 in favor of budget cuts, but as the hours went on, more teachers and health care workers arrived and testified about the need for either a static budget or more funding for programs. Several from the "red for ed" movement came and spoke for saving education from the chopping block.
But teacher Dee McKee, winner of the BP Teacher of Excellence Award (2017) told the panel that education is an area that does have waste.
She pointed to the Nome School District, which receives funding for more than 1,500 students, but that the school only has 674 students. She was referring to the multiplier effect that incentivizes school districts to label students for special education, so the district can get more money.
"We have ghost students. This is insane. If you're looking at education, and if this is typical, it's got to get fixed," she said.
Lisa Shelby, a principal at Susitna Valley Jr/Sr High spoke about how well her students do in graduation rates and test scores, compared to others around the state, and how much the school does for students, including providing a lot of lunches for students from lower-income families.
John Nelson, a financial adviser who ran for Congress in 2018, testified, "We do have a spending problem. We do have to get it under control."
In Bethel, the testifiers were most, if not all, opposed to spending cuts.
Beverly Hoffman said that she was born in Bethel and was worried, saying even the mention of cuts had created chaos.
"This administration has just wanted to shock the crap out of us," she said, "It's deplorable, that's the word. We know how to live here. We're grateful for PCE [power cost equalization payments]. It's ludicrous. I wish he [Dunleavy] came here today. Boy he'd get an earful. We deserve the best in education. The best in public safety, the best in health [care]." Hoffman is a local activist for the failed Stand for Salmon initiative that was on the November General Election ballot and opposes the Donlin Mine.
Meanwhile, back in Wasilla, Tammy Miller was telling legislators that she has learned how to cut her expenses when she's faced losing a portion of her income "and I also look at how my money is used and I don't throw good money after bad." She expects government to do the same.
Berkley Tilton, married to Rep. Cathy Tilton, encouraged lawmakers to use the existing historic formula for calculating the Permanent Fund dividend and to initiate a spending cap, as proposed by the governor, and Lyle Downing (no relation to this writer) testified that the dividend should not be considered a revenue stream for services.
Carol Carman spoke about education funding, but then turned to Speaker Edgmon and addressed him on another matter that has been on her mind:
"Rep. [Matt] Claman has an ethics problem. He is chair of Judiciary, and he is a practicing lawyer. What are you going to do about it?" Under the ethics rules of the Legislature, Claman is not allowed to serve in a position where he has a conflict of interest, and as a trial lawyer, he is handling criminal justice reform legislation as a committee chair.
Rep. Wilson said she would take that comment back to Juneau for consideration.
After nearly three hours in Wasilla, 187 had signed up, 85 had testified, and it was running about two-to-one in favor of budget cuts.
Other legislators who attended the meeting in the Mat-Su included Reps. DeLena Johnson, David Eastman, and Cathy Tilton and Sens. Shelley Hughes and Mike Shower, all from the Valley. They are part of the 15-member Republican minority that was created after fellow Republicans Tammie Wilson, Chuck Kopp, Jennifer Johnston, Bart LeBon, Gary Knopp, and Steve Thompson left the Republican Majority and joined Democrats in a coalition, which already had two putative Republicans in it.
Farther to the south, 150 people in Ketchikan attended their hearing on Saturday and many said they want the ferry system, education, and social services saved. Ketchikan is the headquarters of the Alaska Marine Highway System, yet also was a stronghold for support for Gov. Dunleavy in the recent election. About 50 people spoke during that Saturday hearing, moderated by Rep. Daniel Ortiz.
Hearings continue today:
Anchorage: Sunday, March 24 from 2-5 p.m. at the Anchorage LIO, 1500 W. Benson Boulevard, Anchorage
Sitka: Sunday, March 24 from 2-5 p.m. at Centennial Hall Assembly Chambers, 330 Harbor Drive, Sitka
Fairbanks: Sunday, March 24 from 2-5 p.m. at the Fairbanks LIO, 1292 Sadler Way, Suite 308, Fairbanks
(With apologies to Kenai, this writer was not able to monitor that hearing on Saturday.)