FIRST HOUSE FINANCE HEARING BRINGS DOZENS TO MIC
If Juneau has any say in it, there will be a progressive state income tax, smaller or no Permanent Fund dividends, and government that is about the same or bigger.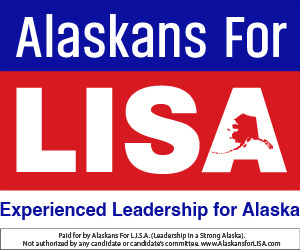 Sixty-eight people testified Friday night in the first of the House Finance Committee's series of traveling public hearings that will pop up across the state this weekend.
Some said that the Dunleavy budget was amoral, that it would force them to leave the state, and that they support funding for education, health care, and ferries.
Friday's hearing occurred on a beautiful Spring evening in Juneau, and some speakers noted that they thought twice about coming to testify on such a rare evening, when many would choose to enjoy the lengthening days. But they came to the Capitol anyway, out of love for the way of life they have and concern for their family's future.
Helen Alten of Haines said that if the budget cuts go through, her family will have to move from Haines because her job as the director of the Haines Shelson museum would be cut, and she's the sole supporter of her family, which includes her disabled husband who cannot work. Lesley Lyman, a retired teacher, likened the budget cuts to hacking up a human body, and Marc Wheeler, a business owner, said he could already see the effect of threatened cuts on his coffee shop, as uncertainty clouds the horizon. Heather Parker was concerned that people won't have access to health care and will actually die.
"This is a self-created crisis, and there's a solution. Invest in Alaska," she said.
Many of those who testified expressed appreciation for the opportunity to voice their opinions on the budget proposed by Gov. Dunleavy, which matches the actual revenues the state has, and is $1.6 billion smaller than the budget paying for state services in the current fiscal year.
The hearings continue around the state this weekend according to this schedule:
Ketchikan: Saturday, March 23 from 12-3 p.m. in Ted Ferry Civic Center, 888 Venentia Avenue, Ketchikan
Mat-Su: Saturday, March 23 from 12-4 p.m. at the Mat-Su LIO, 600 E. Railroad Avenue, Wasilla
Bethel: Saturday, March 23 from 2-5 p.m. at the Yupiit Piciryarait Cultural Center, 401 Chief Eddie Hoffman Highway, Bethel
Kenai: Saturday, March 23 from 5:30-8:30 p.m. at Soldotna Sports Center, 538 Arena Avenue, Soldotna
Anchorage: Sunday, March 24 from 2-5 p.m. at the Anchorage LIO, 1500 W. Benson Boulevard, Anchorage
Sitka: Sunday, March 24 from 2-5 p.m. at Centennial Hall Assembly Chambers, 330 Harbor Drive, Sitka
Fairbanks: Sunday, March 24 from 2-5 p.m. at the Fairbanks LIO, 1292 Sadler Way, Suite 308, Fairbanks