In a move that took the Anchorage public by surprise, the Assembly today agreed to advance an ordinance that would require everyone over the age of 2 in Anchorage to wear masks while indoors in public spaces, and in some outdoor spaces as well.
It's a direct hit at Mayor Dave Bronson, who said he will not declare any sort of mask mandate in Anchorage.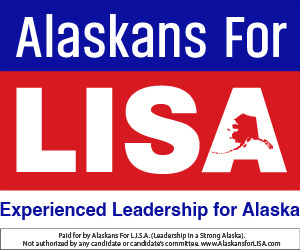 The draft ordinance by Assemblywoman Meg Zaletel was placed on next week's agenda, without discussion or comment or discussion from any of the Assembly members, except Jamie Allard, who said it was a vast overstepping of the Assembly's authority.
Allard said, "It's clear that this Assembly has a savior complex, and is hell-bent on violating the public's constitutional rights. This body will not stop until they get what they want. There is no doubt the Assembly is absolutely exceeding its authority."
Members of the public attended the meeting, and a few of them said the fact that the Assembly did not post documents until one hour before the meeting shows the liberal majority is trying to keep public participation at bay. They also criticized the Assembly for having the meeting in a small room in City Hall, which limits participation.
It was bum-rushing a mask mandate ordinance through; if not for today's meeting, the ordinance could not be introduced until the next Assembly meeting on Sept. 28, and not voted on for two weeks after that. Instead, today's meeting helped the liberal Assembly jump through the first hoop. On Sept. 28, there will be brief public testimony and a vote.
A dozen or more members of the public spoke in opposition to the ordinance. One attorney, Mario Bird, said it would be grounds for recall for the Assembly members who vote for it, because it is clearly a violation of the separation of powers. He begged the Assembly to stop their actions.
The public who showed up was angry at the Assembly for the lack of transparency and the overreach, but the members on the Assembly who showed up in the room who are favoring the ordinance, sat stoically behind their masks. Only Assembly members Crystal Kennedy and Allard remained unmasked on the panel, Kennedy said she was shocked at the effort to ordain a mask mandate from the majority.
Mayor Dave Bronson is opposed to the mask mandate. It's likely he would veto the mask ordinance, but the Assembly has the votes to override him. The mayor also has the ability to take the ordinance to court, and it's almost certain that he will.
It looks like the Assembly is throwing gasoline on the fire of the relationship between the Assembly and the Mayor's Office.