BUSINESSES MAY REFUSE SERVICE TO QUARANTINE RULE-BREAKERS
Anchorage Mayor Ethan Berkowitz signed Emergency Order EO-11 on Friday, which mandates a 14-day quarantine for travelers coming into Anchorage from out of state, if they have not met testing requirements prior to their arrival. This mandate is the same as the State of Alaska health mandate for travelers from out of state.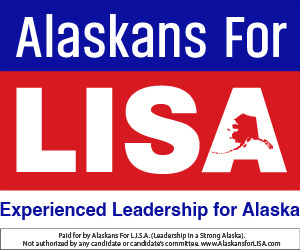 But there's more to the Anchorage mandates, going above and beyond the state requirements:
Those who have negative COVID-19 tests before arriving in Anchorage must still minimize their contact with others. Unlike the full-quarantine class of travelers, they will be allowed to "recreate outside, use curbside delivery, and take-out but may not dine in at restaurants, or visit indoor attractions like museums, theaters, and gyms that would involve heightened contact with other people."
Those restrictions on incoming travelers would be lifted if the travelers receive a second negative test administered at least seven days after arrival in Anchorage.
The practical effect of the Berkowitz quarantine is that all travelers from out of state will essentially be in either a strict or semi-quarantine for about seven days upon arrival.
"All individuals arriving in Anchorage from out of state must inform their hotel, rental lodging host, and/or roommates of their quarantine status or whether they are required to minimize in-person interactions. Businesses may refuse to serve people who are in quarantine or minimal-interaction status. Any traveler who receives a positive COVID-19 test result must isolate at their own expense," the mayor's order says.
It is unclear if this means that renters must inform their landlords as to their quarantine status, or if the quarantine notification only applies to temporary lodging and roommates.
At a press conference on Friday, Berkowitz said that the public can expect Anchorage to remain in this phase for a long period, since COVID-19 is not going to just disappear. He likened it to living in "bear country," where people must have a heightened awareness about their surroundings. In this case, they need to keep to the protocols of face masks, hygiene, and social distancing as a new way of life, he said.
Berkowitz also warned air carriers to counsel their crew members to respect Anchorage emergency orders.
He said he had heard of more than one instance where cargo crew members were not respecting the distancing rules and were putting food service workers at risk.
"It has come to my attention that some of the restaurants, particularly in downtown, have had uncomfortable experiences with cargo crew engaging in, let's just say, too much revelry and with too many people," Berkowitz said.
Berkowitz said he support the Black Lives Matters protests during the pandemic and said that protesters are risking their lives for something they believe in. "I am very supportive of them. I want them to be peaceful. I want them to be safe. We can protest for social justice and maintain social distancing at the same time," Berkowitz said, adding that he intends to take part in some of the protests.