BUT SEAT MAY GO BLUE IN NOVEMBER WITH A FOUR-WAY BALLOT
Republican candidate Ross Bieling dropped from the Aug. 18 Primary ballot, leaving Republican voters to choose between Rep. Jennifer Johnson and challenger James Kaufman for District 28, South Anchorage.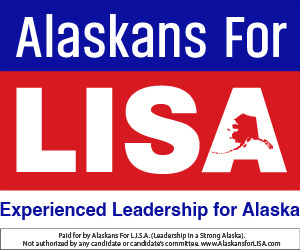 Bieling is not out of the race for House yet. He has filed as an unaffiliated candidate for the General Election, meaning that he could make November into a four-way race.
Adam Lees, a Democrat, is the only Democrat running for the seat in the Primary. Lees, an aide to Anchorage Assemblywoman Suzanne LaFrance, will advance to the November ballot easily. He and Beiling have history; a few years ago Beiling accused Lees of stealing some of his campaign signs.
The General Election ballot will be crowded with Beiling and another nonaligned candidate: Benjamin Fletcher. That makes four for November.
And then there's a write-in candidate as well, one Adolph (Louis A.) Garcia from Girdwood. He's a non-aligned candidate who said he'd be a write-in for November. If history is an indicator, he might get up to 45 votes.
These extra candidates in November spell trouble for Johnston's reelection.
In 2016, Johnston's first run for House, she won a strong 56 percent of the vote — 5,903 votes for Johnston compared to 4,606 for Democrat Shirley Cote. There were 44 write-in names.
In 2018, Rep. Johnston won over Democrat Amber Lee with 54.23 percent of the vote in the General Election, 5,557 to 4,628. There were no nonaligned candidates on the ballot for the district that year and there were 24 write-in names.
With 344 fewer voters cast ballots in that race in 2018 compared with the presidential General Election of 2016, the results show that the margin closed a bit for Johnston — some 346 voters were not with her during her second run for the seat, or about a 3.38 percent erosion of support.
With Bieling and Fletcher peeling off an unknown number votes in November, this seat may get handed to a Democrat. It would be a slim victory for the Democrat in a district that voted for Donald Trump over Hillary Clinton (5,423 to 4,729) in 2016, but with extra names on the ballot, this is doable for a Democrat and will most certainly end up being a targeted race by the Alaska Democratic Party.
On the other hand, Bieling has indicated he may drop out if Kaufman wins the Republican Primary. But if Johnston wins, all bets are off.
Primary candidates have until June 29 to drop from that ballot. General Election candidates have until Aug. 31 to drop.