The election of Anchorage mayor ended with the Bronson campaign having enough volunteers to make over 10,000 calls in the final hours of Tuesday, with 100 volunteers to spare for a sign-waving war with the Dunbar campaign on the corner of Minnesota and Northern Lights Blvd.
The Anchorage Division of Elections will count about 48,000 votes after polls close at 8 pm. Analysts say as many as 95,000 votes will be cast in the runoff between Dave Bronson and Forrest Dunbar.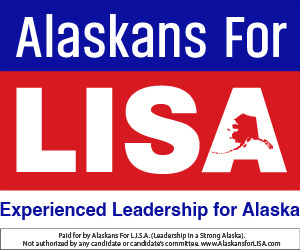 If Bronson leads Tuesday night, the likelihood of him winning is good. But if the Election Office shuts down early in the evening, like it did on April 6, Anchorage may have to wait several days to know for sure who the next mayor will be.
The sign-waving war Tuesday afternoon featured loud dance music from the Bronson corner, and what felt like momentum. The Dunbar campaign had a dancing bear. At one point, a Bronson supporter challenged the bear to a dance-off in the traffic median, to Taylor Swift's "Shake it off," to the amusement of drivers.
Back at the Bronson headquarters, callers were reminding thousands of tardy voters to get their ballots in and reported they got dozens of people to vote before the 8 pm cutoff. The Bronson campaign had 150 volunteers on Election Day.
Check back later with Must Read Alaska for results.