Dear Reader,
Must Read Alaska comes to you every day, determined to give Alaskans a conservative home for news, events, and context. In fact, MRAK has hardly missed a day of publishing during 2019, and this website has had over 7.6 million views and nearly 28,000 comments on stories.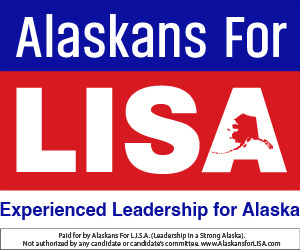 Because you support this alternative-to-mainstream-media project, now in its third year, we keep publishing the truth here and in the newsletter that hits 11,800 email inboxes in Alaska three times a week from Ketchikan to Kotz.
Must Read Alaska has changed the media landscape in Alaska. It comes to you at no cost because you deserve to have a source of news independent of the liberal-bias mainstream media narrative. With your support, MRAK will remain strong and independent, the way Alaska ought to be.
Please consider making a year-end financial contribution to MRAK. (No, this is not technically a "nonprofit," organization and thus, there is no tax deduction. But your gift makes sure Alaska will have an alternative source of news as we head into one of the most dynamic political seasons of our generation.)
Alaska's marketplace of ideas needs a strong conservative voice. That's what makes Must Read Alaska so vital to our state's future, as our public policy is being primarily informed — and bullied into submission — by the very loud voice of the Left.
Yes, the Left calls names, bullies, threatens, and tries to intimidate Must Read Alaska. But they can't, and it drives them crazy that MRAK has survived, grown readers so quickly, and won't back down.
Thank you in advance for your help in the fight.
And also … Have a Merry Christmas, a Happy Hanukah, a safe New Year, and a joyous season in all that you celebrate.
Best wishes,
Suzanne Downing
Editor and Publisher
P.S. Miss the link? Here's where you can click to make donations to keep Must Read Alaska alive. Checks can go to MRAK, 2525 Gambell Street, Suite 405, Anchorage, AK 99503.