With just two months away until the General Election, the Alaska election season just got a little more Yeezy. Someone has started putting Kanye West for President signs around Anchorage.
West, a rapper, producer, and fashion designer, is also the husband of Kim Kardashian. He has recently become a Christian and also said that he is bipolar.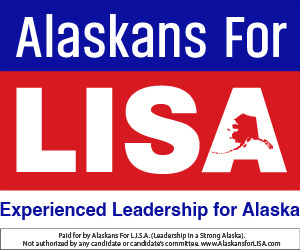 In July, West wrote on Twitter that he was running for president under the BDY Party, which he calls the "Birth Day Party."
In an interview with Forbes about his run, he said that America needs someone special to be president.
"You know? Obama's special. Trump's special. We say Kanye West is special. America needs special people that lead. Bill Clinton? Special. Joe Biden's not special."
Although many believe it is just a publicity stunt, on July 15 West filed paperwork with the Federal Election Commission and he held his first rally on July 19.
West would have to be a write-in candidate because he is not running with a registered party in Alaska.
There are already numerous write-in candidates registered with the Division of Elections; Kanye West is not one of them. Most of them are from out of state, but have registered as write-ins in Alaska.
West is on the ballot in Minnesota and Tennessee.
Those presidential candidates who are registered with the Division of Elections include:
ROUSE, DEBORAH / CANNON, SHEILA NON-AFFILIATED, write in
WELLS, KASEY / WELLS, RACHEL M. NON-AFFILIATED, write in
HOWARD, SHAWN / HOWARD, ALYSSA NON-AFFILIATED, write in
BODDIE, PRESIDENT R. / STONEHAM, ERIC C. NON-AFFILIATED, write in
TITTLE, SHEILA "SAMM" / WAGNER, JOHN NON-AFFILIATED, write in
BALL, DENNIS ANDREW / SANDERS, RICHARD A. AOA-ANC , write in
CELLA, TODD / CELLA, TIM NON-AFFILIATED, write in
JORGENSEN, JO / COHEN, JEREMY "SPIKE" LIBERTARIAN NOMINEE
BIDEN, JOSEPH R. / HARRIS, KAMALA D. DEMOCRATIC NOMINEE
DE LA FUENTE, ROQUE "ROCKY" / RICHARDSON, DARCY G. ALLIANCE PARTY NOMINEE
BLANKENSHIP, DON / MOHR, WILLIAM CONSTITUTION PARTY NOMINEE
TRUMP, DONALD J. / PENCE, MICHAEL R. REPUBLICAN NOMINEE
JANOS, JAMES G. "JESSE VENTURA" / MCKINNEY, CYNTHIA GREEN PARTY NOMINEE