The Green Party of Alaska is not going along with the national Green Party in its nomination of the party's standard-bearer Howie Hawkins for president.
Instead, the Alaska Green Party has voted for Jesse "The Body" Ventura for president and Cynthia McKinney for Vice President. Their names will appear on the Nov. 3 General Election ballot.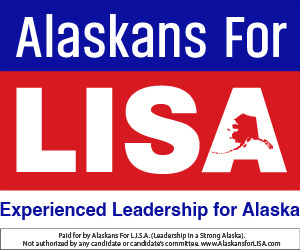 In a highly unusual but calculated move, Ventura is actually being drafted by the Alaska Green Party. The former governor of Minnesota. who lives half of the year on the beach in Mexico in a house that is "off the grid," has not thrown his name in the hat for consideration.
McKinney is a Green Party member from Georgia who served in Congress from 1993-2003 as a Democrat, and who was at the heart of several political controversies.
Robert Shields, who chairs the Green Party of Alaska, said part of the thinking was to give Alaska Republicans someone other than President Donald Trump to vote for. He thinks that Ventura's name will shake things up this political season.
"[Ventura] was an easy choice for independent Alaskans and he is clearly the most competent candidate. Drafting is a proven way to make radical changes to the system."
Shields said that President Eisenhower was drafted for Republicans in the 1950s and the Green Party of Alaska is using that model.
Richard Idriss, who is in leadership at the People for Jesse campaign, said, "The People for Jesse largely moved on from the Green Party after their national convention to work toward an independent write-in campaign for Governor Ventura, but we had always recognized an internal schism within the state Green parties as a possible outcome of their primary. Tension around presidential nominee selection has led to these sorts of issues within both the Green and Libertarian parties before."
Shields said he thinks Ventura will drain votes from Trump but not so much from Joe Biden.
"It gives Republicans an out, a quiet way to say they can't be part of this anymore," he said.
In 2016, the Green Party ticket led by Jill Stein received over 4,000 votes in Alaska.
Ventura was a professional wrestler before running for governor of Minnesota as a "Reform Party" candidate in 1998.
According to the Freedom From Religion Foundation, he strongly backed gay rights, abortion rights, funding for higher education, mass transit, property tax reform, and opening trade relations with Cuba. He was flamboyant and unpredictable.
He was the recipient in 1999 of Freedom from Religion Foundation's Emperor Has No Clothes Award for his "plain speaking" against religion and for refusing to proclaim a state "Day of Prayer." He vetoed a bill that would have required students to recite the Pledge of Allegiance in public schools.
McKinney ran for president under the Green Party in 2008. When she was in the U.S. House as a Democrat, she filed articles of impeachment against President George W. Bush and Vice President Dick Cheney. In 2006, she scuffled with Capitol Hill Police officer after they asked her to show her identification.
The Alaska Green Party polled its members and Ventura won 50 percent of the vote among several choices, which included Donald Trump and the national Green Party's nominee Howie Hawkins: