By JOHN STURGEON
As the president of Safari Club International Alaska, I would like to respond to some of the claims made in an opinion piece in Must Read Alaska from April 27, 2022, titled, "Fritz Pettyjohn: Sarah Palin, Trump, and Alaska lands." I found a number of points made by the author to be not just problematic, but completely false and inaccurate.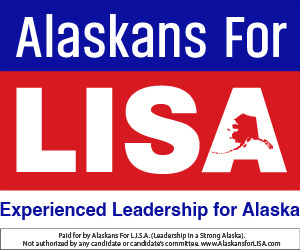 To be clear, Safari Club International and SCI Alaska's Chapter supports hunting and fishing access for everyone. We understand the value in hunting and conservation and how the two go hand-in-hand. Safari Club International's motto is "First for Hunters" and we definitely walk the talk.
To characterize Safari Club International as "wealthy trophy hunters" is absolutely false. The vast majority of members are ordinary hunters that love the outdoors and want to provide food for themselves and their families. They cherish the time in the field with friends and family that provide memories for a lifetime. It is Safari Club International's goal to enable them to do just that and here is how we do that.
Safari Club International advocates for hunters rights in Juneau and Washington. With the constant attacks on our hunting traditions that is a full time job.
Safari Club International is first for youth education in hunting and shooting sports. We sponsor wilderness leadership grants for teachers and award scholarships for outdoor careers. We sponsor numerous youth shooting programs.
Safari Club International is most proud of our hunting programs for wounded warriors. Each year we contribute over $40,000 for various hunting programs for our veterans. Every year the State awards six special moose hunting permits to Purple Heart recipients. Safari Club International Alaska sponsors all six of those veterans including transportation, licenses, tags, meat processing, and the shipment of the meat. 
Lastly we support Fish and Game's efforts to manage Alaska's wildlife. In 2022 Safari Club International Alaska wrote a check to the department for over $300,000. When matched with federal grant funds, the department has over $1.2 million to help manage Alaska's precious wildlife. 
 I would hope that next time Mr. Pettyjohn will do his homework before mischaracterizing Safari Club International's membership and its goals. SCI remains "First for Hunters."
John Sturgeon is president of Safari Club International Alaska.