Joe Usibelli, Sr., whose contributions to Alaska and to the University of Alaska Fairbanks have been transformational, has passed.
He was not only the force behind Alaska's largest coal operation, but he and his wife Peggy Shumaker shared their success and contributed generously to the University of Alaska Fairbanks.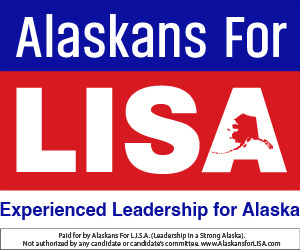 As a 1959 graduate of UAF with a degree in civil engineering, and a member of the first varsity rifle team, Joe's philosophy was to give back, to share his success, and to provide for others, wrote University of Alaska President Pat Pitney in a statement. "He was a testament to the power of individual philanthropy and believed that those who give of their resources create vibrant communities. Joe was dedicated to creating a vibrant UAF, a vibrant community in Healy and was supportive of the families who lived there and worked at Usibelli Coal Mine. He also was dedicated to the successful restoration of the natural landscape on land previously mined well before it was required by the federal government."
Pitney continued, "Joe and family members funded the Emil Usibelli Distinguished Teaching, Research and Public Service Awards for faculty. Joe co-chaired the fundraising efforts for the University of Alaska Museum of the North addition. Then, in 2014, Peggy and Joe gifted the museum $1 million to anchor renovations in the Alaska Gallery. Through Usibelli Coal Mine's corporate social responsibility program, the Usibelli Foundation and personal gifts from members of the Usibelli family, more than $8.5 million has been donated to the university through scholarships, faculty awards, capital projects, event sponsorships and athletics."
But he will be remembered for so much more than his philanthropy, Pitney said. He will be remembered for his love of family, his tireless enthusiasm, his success in building an important energy company that supports so many families, and for his life-long commitment to Alaska.
From the Usibelli Coal Mine website: Usibelli Coal Mine, Inc. is a fourth generation, family-owned, business and the only operational coal mine in Alaska. Emil Usibelli founded the company in 1943. His son, Joe Usibelli Sr. was the chairman of the Board of Directors. Joe Usibelli Jr., Emil's grandson, is president of UCM.
Mining began in Healy in the early 1900s in an area known as Suntrana. An abundance of naturally exposed outcroppings of coal seams is highly visible and resulted in the Alaskan pioneers tunneling directly into the coal seams to secure fuel for steam driven riverboats and the railroad. Underground mining operations began to prosper in the Suntrana area. Many of these historic mine sites are located in the Healy Creek Valley.
Emil Usibelli was an Italian immigrant who came to Alaska in 1935. He worked as an underground miner in the Evan Jones Mine near Palmer in the Matanuska Valley. A year later, he moved to Suntrana and worked underground for the Healy River Coal Company. After being laid off due to injuries sustained while mining, Emil started a logging operation and supplied timbers to the Suntrana Mine.
During World War II, Ladd Army Air Field in Fairbanks became an important military base. To reduce its dependency on a single fuel supplier, the military began exploration work on military coal reserves east of the Suntrana mines in an area known as the Healy Creek Valley. Emil Usibelli was hired to do that exploration work.? In 1943, Emil and a friend Thad Sandford decided to go into the coal mining business.? They were among several others who obtained coal leases from the U.S. Army. With a one-year contract to supply 10,000 tons of coal to the U.S. Army's Ladd Army Air Field (known today as Fort Wainwright U.S. Army post), Emil began operations with a small International TD-40 dozer and a converted GMC logging truck.? The dozer was used to push the overburden off the coal outcrops and then push the exposed coal into the truck bed. His methods of mining were viewed with skepticism by the underground miners but he met his contract obligations.
Read more about the historic Usibelli legacy at this link.