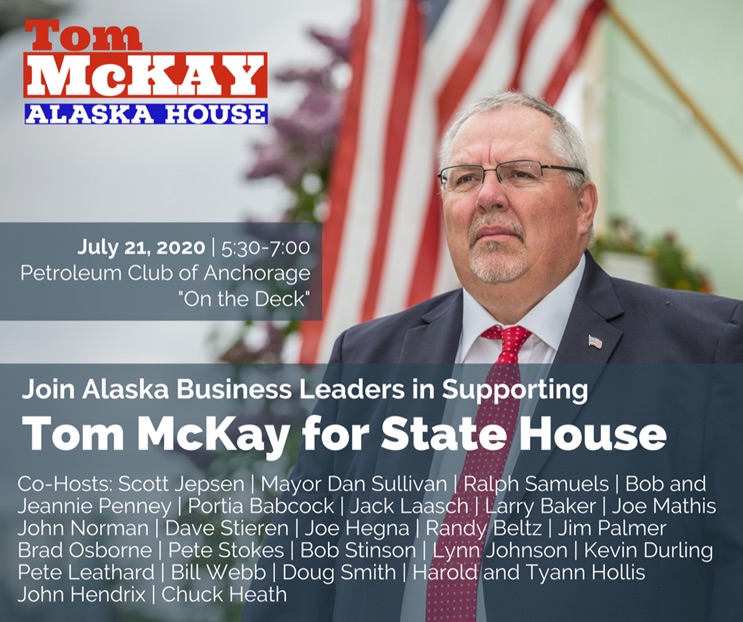 The House race for District 24 is shaping up to be quite a contest in the primary, which is the deciding election in this conservative district.
A fundraiser tonight at the Petroleum Club in Anchorage is key for candidate Tom McKay, who is challenging Rep. Chuck Kopp in the primary.
The fundraising picture shows McKay within striking distance. In the 30-day report at the Alaska Public Offices Commission, it appears that after McKay started his campaign on June 1, he raised $23,000 and has $10,000 in the bank to help his campaign reach voters during the final stretch toward the Aug. 18 election.
Kopp, on the other hand, raised $28,000 and had $27,000 in the bank, but he had spent $35,000, meaning he is $9,000 ahead of McKay. That's a lot of money for the final push.
But there's a twist. The day after the 30-day reports were due is tonight's fundraiser for McKay, and it's clear he'll come even with Kopp for that final stretch: The co-hosts are filled with determined heavy-hitters such as Scott Jepson, Kevin Durling, Larry Baker, Joe Mathis, Mayor Dan Sullivan, and former Rep. Ralph Samuels, Bob and Jeannie Penney, and Portia Babcock. There's even Chuck Heath and John Hendrix on the list of co-hosts. The event starts at 5:30 pm on the deck of the Petroleum Club on C Street.
Adding to the tension in this race is the news that Alaska Family Action is not giving its primary endorsement to Kopp this year, after the board could not decide whether it could still stay with him after he organized with the Democrats and put hardline abortion advocate Ivy Spohnholz and Matt Claman in charge of key committees: Health and Social Service and Judiciary committees.
Board member Fred Dyson issued his own endorsement of Kopp, but others on the board have been reluctant because, Must Read Alaska has learned, Kopp is seen as perpetuating one of the biggest problems in Alaska when he defended the soft-on-crime bill SB 91, and because he has allowed the House to be run by Democrats.