The Alaska House Republicans released their vision and principles in a declaration statement.
"There is reason, we believe, in optimism for the future of Alaska. With our uncharted wilderness, our ever-plentiful resources, and our bountiful seas, Alaska remains a treasure for the bold. We, the undersigned, commit ourselves to restoring the greatness of our state," the declaration statement reads.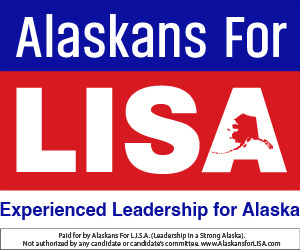 "We believe in governance that fits Alaska. We will fight for a state government that operates transparently, remains accountable to the people, acts with integrity, and operates on a responsible budget that does not inhibit economic growth. This includes preserving our permanent fund for future generations, instituting a spending limit, and opposing a statewide income tax.
"We believe in restoring an Alaska open for business. This includes fighting for our right to engage in responsible resource development, protecting our fishing and tourism industries, and developing the infrastructure and fiscal solutions needed to attract more industry and jobs.
"We believe every Alaskan deserves equal treatment under the law. We will fight for an Alaska where each lawful vote counts, where law enforcement has the resources to keep our communities safe, where all life is protected, and justice is served upon those who unlawfully harm others."
The declaration of principles was signed by 18 Republicans. Only Reps. Kelly Merrick and Sara Rasmussen, who have left the Republican caucus, did not sign the declaration.
Rep. George Rauscher said the caucus has a joint resolution in response to President Joe Biden's crushing energy policies that are harming Alaska already. The resolution must be voted on by the entire House, however, and the House is controlled by Democrats.
"All Alaskans believe that resource development is key to Alaska's survival right now," Rauscher said.
The resolution will implore President Joe Biden to honor the recent coastal plain oil and gas leasing program. It asks the administration to honor the long, safe, and responsible development on the North Slope. If passed by the Legislature it would be sent to Congress and the Biden Administration.